River System of India: Rivers can be classified on the basis of catchment area. A major river is having a catchment area of 20000 sq. k.m or above. Catchment area with 2000-20000 sq. k.m. is called medium river and river with less than catchment area of 2000 sq. k.m. is called a minor river. In India, we have 14 major rivers, 44 medium rivers and a large number of small rivers. Based on the origin we can classify the Indian river system broadly in to two categories;
Himalayan Rivers and Peninsular Rivers. Rivers originate in the slopes of Himalayan Mountains and the Tibetan plateau flows through India are included in the former, whereas the rivers originate at Vidhyan hills, Satpura hills, Westen Ghat and other hill ranges are included in Peninsular rivers. 
Himalayan Rivers are perennial rivers, which have water all through the year, whereas the peninsular rivers depend on rains.  77 % of the rivers flowing towards east direction and joins the Bay of Bengal and 23 % of the drainage is towards the Arabian Sea. In general, river systems are classified as
Indus River System
Ganga-Brahmaputra-Meghana River System
The peninsular rivers
A. Himalayan Rivers  
Indus, Ganga and Brahmaputra are the three main rivers originating in Himalayas which are also treated as Himalayan rivers. Himalayan rivers, deepened its original course, while the mountain upheavel take place. These deep gorges prove that Himalayan rivers are older than other rivers. Pasco & Pilgrim (1919) proposed a theory Indo-Brahma flowed through the entire subcontinent from east (Assam) to west (Punjab) and emptied its waters in Gulf of Sindh near lower Punjab during Miocene period. Successive upheavals of Himalaya due to tectonic shifts resulted in uplifting of Tibetan Plateau. This also blocked the flow of rivers, and diverted in gradual course of time. This theory was not accepted by many scholars.   
1. Indus
Indus originates from Bokhar Chu glacier of Mt. Kailas. It drains largest number of glaciers of Himalayas. In Tibetan China it is called Singikhamban means lions mouth. It enters in India at Ladakh other streams join in its course to Arabian sea to complete a distance of 2880 K.M, in which 709 k.m. it pass through India. Main tributaries of Indus at Himalayan ranges are Shyok, Gilgit, Shigar, Zanskar and Hanle. It has a river basin of 321289 sq. km river basin in India. Kabul River joins at Attock. The Indus Water Treaty (1960) between India and Pakistan is a mutual agreement to share the Indus water resources. This agreement further classifies Sutlej, Beas and Ravi as the east flowing rivers, and Indus, Jhelum and Chenab as the west flowing. It describes the use of water resources for domestic, non-consumptive use etc. 
Tributaries
Jhelum (Vitasta): Rises at Verinag, at the slopes of Pir Panjal range and flows through the city of Srinagar. The main tributaries of Jhelum are Lidder, Sind and Kishenganga. River Lidder is originating at Chandanwari Glacier and merges with Jhelum at Anantnag. River Kishenganga originate near Sonamarg and River Sind originates at Machoi Glacier at an elevation of 4800 m, east of Amarnath Caves. 
Chenab (Asikini): Rises from Rakas Lake in Tibet. It is known as Chandrabhaga in Himachal Pradesh. In its course, its flows through the Pangi Valley and enters in Pakistan, where it merges with River Jhelum at Trimmu in Pakistan.
Ravi (Purushini/Iravati): It originates in the Himalayas (altitude 4300 m) at the Multan Tehsil of the Kangra District.  It flows through Bara Bangal, Bara Bansu and Chamba districts. Two major tributaries of this river is Budhil and Mai. The Budhil rises at Manimahesh Kailash Peak and Manimahesh Lake which is an important Hindu pilgrimage site. It drains between the area of Dhauladar ranges and Pir Panjal Ranges. Ravi is the smallest of the five other rivers of Indus river system.  
Beas (Vipasa): The river rises in the Himalayas (Beas Kund, altitude: 4361m) near
Rohtang Pass in Central Himachal Pradesh. It flows through Himachal Pradesh and Punjab. Main tributaries of this river are Parbati, Harla, Sanji and Tirthan.  

Sutlej (Shatadru): It is the longest of the five rivers under Indus River System. It originates from Rakas lake which is connected to the Mansarovar Lake and flows through Tibet. It is the eastern most tributary of Indus. This river flows below the base of Shimla and enters in Punjab. It is called as Langqen Zangbo or Elephant Spring.  Baspa and Spiti are the two main tributaries of Sutlej. The following table indicates the Indus river system in a nutshell.
| | |
| --- | --- |
| Indus  | Originates at Kailas range close to Mansarovar lake |
| Jhelum | Verinag |
| Ravi | Near to Rohtang Pass |
| Beas | Near to Rohtang Pass |
| Satulj | Rakas Lake near Mansarovar |
| Chenab | Bara-Lachha la |
2.   Ganga
River Ganga is the heritage river of India. The plains created River Ganga and Yamuna in the states of Uttarakhand, Haryana, Uttar Pradesh, Madhya Pradesh, Bihar, Jharkhand and West Bengal is one the best fertile lands in the world. Ganga originate as Bhagirathi from Gangotri Glacier (base of Chaukamba Peak) at an elevation of 7010 meters. In its course, it cuts through the Himalayan Mountains, creates spectacular gorges. It meets River Alakananda at Deoprayag. At Hardwar, river enters in to the Doon Valley, thereafter its flows over the slope terrain. Major tributaries of River Alakananda are Pinder, Mandakini, Nandakini and Dhauliganga. Main tributary of River Bhagirathi is Bheling.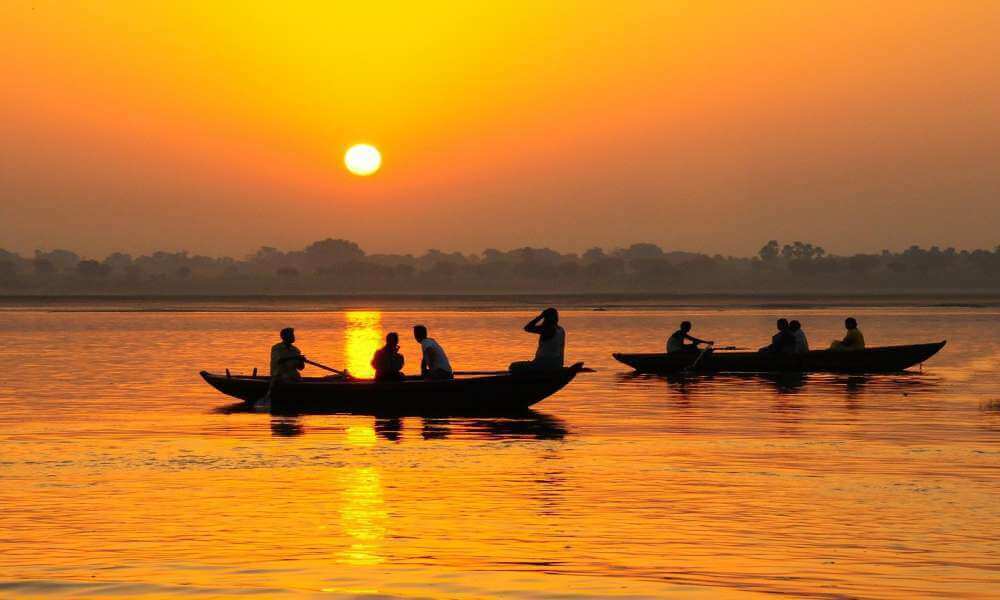 Ganga River System is constituted by 
River Yamuna and its territories
Kali River and its tributaries 
The Ghagra River System
The Gandak River System  The Kosi River System
River Yamuna: the largest tributary of River Ganga. It raises at Yamunotri glacier, base of Banderpunch peak in the main Himalayan Range. The gradient is higher at the upper tract, which also result in deep gorges, enters in to Doon Valley through the Mussoorie Ridge at Kalsi. It flows through Uttarakhand, Haryana, Delhi, at Allahabad,(Uttar Pradesh), it merges with River Ganges. 
Main tributaries of River Yamuna (Non Peninsular) are
River Tons
River Aglar
River Giri
River Bata
River Asan Rao
Peninsular tributaries join River Yamuna include 
Chambal : Originate at the southern Malwa plateau and flows in a north east direction through the borders of Rajasthan and Madhya Pradesh then enters in Uttar Pradesh and finally merges with Yamuna. 
Betwa : Also known as Betravati, it originates at the Vindyan Range in Madhya Pradesh. It enters at Orcha in Uttar Pradesh and finally merges with Yamuna.
Ken : It originates at the north west slopes of Berner Ranges in Madhya Pradesh and Merges with River Yamuna at Banda in Uttar Pradesh. It is one of the most important rivers of Bundelkhand region. There is an active proposal to link Betwa river and Ken river in order to supply water at drought prone areas of Bundelkhand.
Sone River: Originates at Amarkantak region in Madhya Pradesh, flows through UP, cuts through the Kaimur ranges in Bihar and merges with River Ganga near Patna. It has a high gradient at the beginning and during rainy season. It becomes shallow and remains as a thin stream during summers. Sone River has a very wide channel at Dehri on Sone ( up to 5 k.m.). two major tributaries of Son are Rihand and Koel.
. You are reading River System of India Part-I
Other (Left bank) Tributaries of River Ganga
Ramganga: Originates at lower Himalayan slopes (Kumaon Region) of Uttarakhand. It flows through the Dun Valley, through the Jim Corbet National Park, near Nainital it enters in to plains. It joins Ganga near Kannauj in Uttar Pradesh. Ganga Dussehera is celebrated at Chabari Village in Bareily in the month of October/November. 
Ghaghra (Karnali) : It rises in Nepal Himalayas. It is the longest tributary of the Gandak basin. The main spring of this river originates at Tibet.  In India it is called as Sarju, on its banks, Ayodhya is situated. The river joins Ganga at Doriganj in Bihar. It is the largest tributary of Ganga in terms of the volume of water it drains. The main tributaries of Ghaghra are Sarda and Rapti. 
Gomti : According to Hindu Mythology Gomti is believed to be the daughter of Sage Vasisht. It originate from Gomat Taal in Northern Uttar Pradesh.  
Gandaki : It is known as Narayani in Nepal and Gandak in India. The confluence of rivers, Gandaki, Pachnad and Sonha is known as Triveni. It lies between Kosi River in the east and Ghaghra in the west.    Gandaki meets River Ganges at Sonepur.
Burhi Gandak  or Old Gandak: It originates near Indo Nepal Border, flows parallel to Gandak, join Ganga near Khagaria in Bihar.
Mahananda: Rise in West Bengal, it joins river Ganga at Jharkhand, West Bengal Border.
Koshi River: It is also called as Sapta Kosi  because of its upper tributaries. 

River Tamur: It is the eastern tributary of river Kosi, originating at Kanchenjunga Arun: It rises at the trans Himalayan Range. 
Sun Kosi: it originate at southern Tibet. Its tributaries are Dudh Kosi, Bhote Kosi and Bhote Kosi and Indravati Kosi, Tamba Kosi and Indravati Kosi.
Indravati: it drains at the eastern side of Kathmandu.
Bhote Kosi: Originate from Cho-Oyu and Gauri Shanker Massif.
Dudhkosi: Drains from the snow melt areas of Mt. Everest. 
Barun: Rises at the Barun glacier at the base of Makalu Koshi River joins River Ganga at Kursela at Kathihar.