Spiritual Tourism: Tourism so far has proved to be the only industry to generate such great deal of net foreign exchange alone. Tourism industry is one of the major employment producers of the globe. This is the only industry, which does not demand any big investment and still generates a lot of money from foreign exchange and strengthens the country's economy. Many small nations like Singapore, Sri-lanka, Malaysia, Thailand etc, gets visited by millions of foreign tourists and bag billions of foreign exchanges.

India, although, the country houses rich tourism locations, yet, figured in the bottom of the rank table in wooing foreign. Apart from foreign tourist, domestic tourist has emerged as a powerful source for the development of tourism. India can be considered the religious and spiritual capital of the world where one can experience the richness of traditions and the beauty of their diversification. People come to India specially to learn and experience yoga and Ayurveda for spirituality. India is the land of spirituality which gave birth to religions like Buddhism, Jainism, Sikhism and many more.
Spirituality and spiritual tourism in India
Spirituality 
Spirituality and traditions have always attracted people from all over the globe to India. With the increasing capitalism and materialism, the need and necessity for spirituality grows to a greater extent. The long-established Indian way of life has helped in the development and growth of Spiritualism. Various cultures and religions have flourished together for ages and resulted into the unique and diverse India. At different point in the history of our civilization a number of spiritual leaders and saints have spread the message of peace, brotherhood, co existence and love that is so very well rooted in our culture.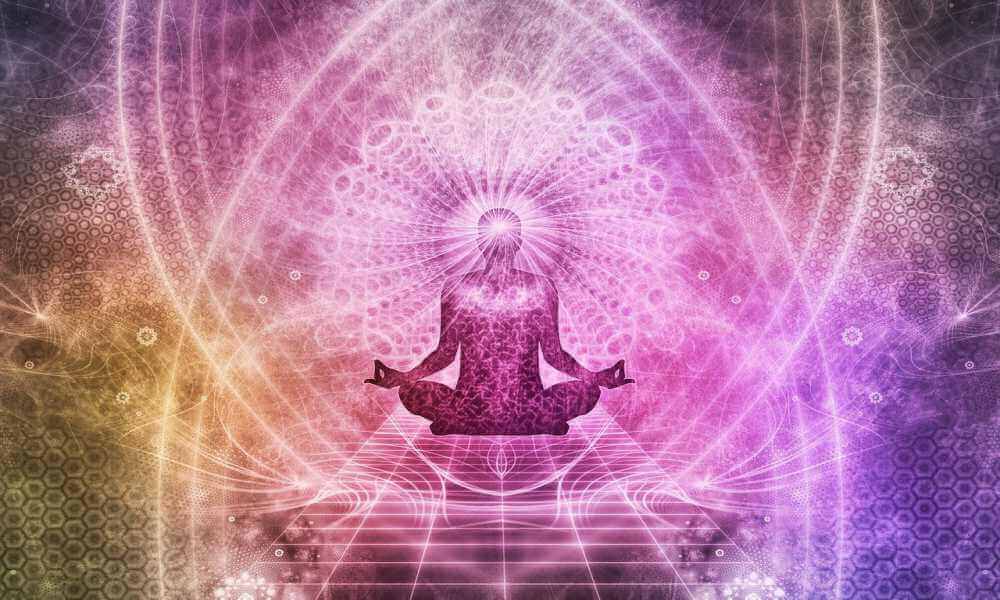 Arts like Yoga and Ayurveda united with religion have played an important role in the growth and existence of spirituality in India. Various Ashrams and centers of brilliance came up in different parts of the country. These centers have helped in encouraging the message of sympathy, care and optimistic living. In India, spirituality is all about showing respect to all living and non-living things which god has created. It is believed that the God has put each one of us in this world for a reason and that reason is to be sympathetic, caring and loving to one-another. Spirituality means having understanding with deep, often religious, feelings and beliefs, including a person's sense of peace, purpose, connection to others, and beliefs about the meaning of life (Aggarwal el, al. (2008)
Spiritual Tourism
Tourism is one of the fastest growing areas and is one of the factors that contribute to the economy of a country which leads to the development of the destinations. Although tourism in India is the backbone of the country's economy it has somehow took toll on the security and culture of the country as well. People travel to India with an expectation of experiencing the rich culture, traditions, diversity and of course the flavors but that is not it.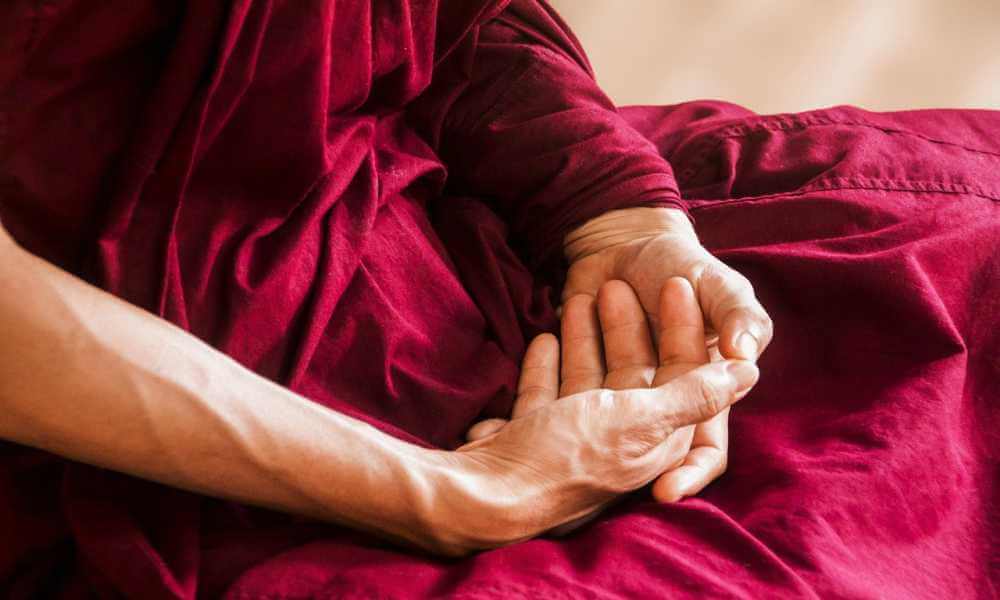 India in coming few years will definitely emerge as a hot tourist destination in terms of Ayurveda, religious and spiritual tourism. The Ayurveda and spiritual tourism can be correlated but both are different from each other. Motivation for both Ayurveda and spiritual tourism is different, where people travel to experience the richness and magic of the treatment of Ayurveda. The spiritual tourism is travelling to attain peace and spirituality or as they say to find their epic centre. Spirituality is defined as "experiencing a meaningful connection to our core selves, other humans, the world and/or a greater power as expressed through our reflections, narratives and actions" (Schulz, 2005). India which has already made its image as a land of gods will step into the 22nd century as the land of spirituality where the people will wish to visit at least once in their life time. Different people have different perception about spiritual tourism and so does the definition also vary. Many authors have defined spiritual tourism as a movement of a person from place to place to satisfy their spiritual needs and some authors have defined it similar to the pilgrimage tourism.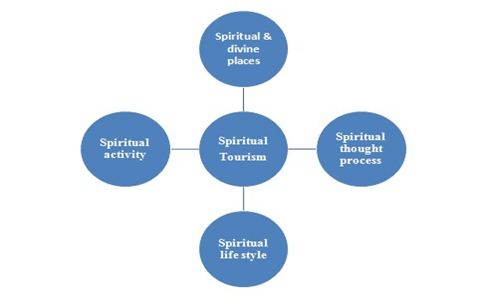 a. Religious
Spirituality has so far correlated with religion but as a matter of fact spirituality is a broader and wider concept then religion. The religion focuses on the teacher "GOD" and his teachings which a community must follow to attain the peace of the soul whereas the spirituality focuses only on the teachings irrespective of their origin. Religion has boundaries which allows and forbid people following it to perform any action but spirituality has no boundaries. A person who wishes to attain spirituality can do anything, his true motive it to find out what teaching will help him finding his centre no matter which religion teaches it. Such people are usually known as SBNR (spiritual but not religious). Religion is about belonging to a community and following the rules of that community but spirituality is searching your true self, knowing the reality and living life outside the boundaries of religion. Religions could be defined as a container in which there are specific spiritual practices which are preserved and passed on to the world and spirituality is choosing and taking out what they wish to practice from that container and do it in their own way.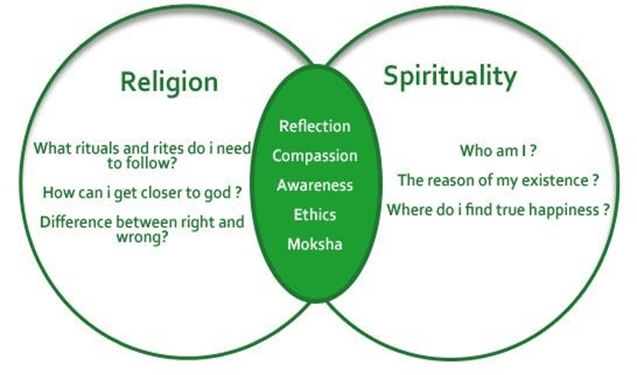 b. Yoga, meditation and Ayurveda
Yoga was originated in India 5,000-year-ago from South India as a spiritual discipline; yoga is so far the most popular holistic search, and the one to have entered and ruled the mainstream. Yoga has proved to be supportive in the treatment of critical lifestyle circumstances, including anxiety, stoutness, diabetes and depression, and is skillful as part of Ayurveda. Of the mixture of styles, hatha yoga and ashtanga are most common and popular. Often correlated with inner peace and meditation yoga also plays a part in attaining spirituality. Yoga is originated from India as a part of other physical, mental and spiritual activities. Hinduism, Buddhism and Jainism are believed to have practiced yoga and meditation in India since ages. Yoga is another way of practicing spiritual activities but it does not belongs to a specific religion, this activity can be performed anywhere and anyone can do it. Every asana, pranayam and mudra has its specific meaning and utility. Yoga is not just good for mind and soul but it is also very useful for body and health. The yogis from the ancient India used to live for the age of 100 and even more than that just with the right amount of food and a lot of yoga. They didn't just lived long they also lived well this was the power that Yoga believed to possess. 1 December, 2016, Yoga was announced as UNESCO's Intangible cultural heritage. People all over the globe today do yoga and they know how to do it but the difference between the yoga performed in USA and the yoga performed in India is prominent as the fine line of authentication has divided the two. The atmosphere that can be seen and felt in India while performing yoga is different and overwhelming as the country possesses a natural and peaceful environment for such activities. 
c. Wellness 
As wellness tourism includes the proactive approach of a person to be healthy, it encircles practices like yoga, meditation, Ayurveda etc which is also a part of spiritual tourism which focuses on these practices to attain peace. The term wellness cannot be correlated with spirituality but both the terms are somehow interconnected. In India a lot of people all over the globe come to experience the Ayurveda and special treatments which are counted under the wellness tourism. So, in such situations people often correlate both wellness and spirituality. when travelling for the purpose of recreation, rejuvenation or for physical fitness one can clearly say that the reason for travelling is health and wellness but when a person is not exactly travelling but in search of peace or mental and soul relaxation in order to be satisfied for the rest of his life, that can be called as spiritual tourism. But at some point these two may intersect as the path may be same but the destination is different. Wellness tourism can also be defined as the sub total of all the associations and phenomenon resulting from a trip and residence by people whose main inspiration is to preserve and promote their health (Research Institute for Leisure and Tourism, university of Berne, Switzerland).
Role of the government
A government body was formed which was responsible for the look after and development of the tourism sector of India known as "Ministry of Tourism" (MOT). MOT has played a great role in encouraging tourism activities in the country. From the development of the tourist destinations to their marketing, maintenance, building and promotion, MOT has put great efforts to make India a hot tourist destination. To enhance and highlight the theme based tourism Swadesh Darshan scheme was introduced according to which thirteen thematic circuits have been identified for development, which were:
North-East India Circuit
Buddhist Circuit 
Himalayan Circuit 
Coastal Circuit 
Krishna Circuit 
Desert Circuit 
Tribal Circuit 
Eco Circuit 
Wildlife Circuit 
Rural Circuit 
Spiritual Circuit 
Ramayana Circuit  
Heritage Circuit
Also Under PRASAD scheme, 25 sites of religious significance have been recognized for development in India namely:
Amravati (Andhra Pradesh)
Amritsar (Punjab) 
Ajmer (Rajasthan)
Ayodhya (Uttar Pradesh)
Badrinath (Uttarakhand)
Dwarka (Gujarat)
Deoghar (Jharkhand)
Belur (West Bengal)
Gaya (Bihar) 
Guruvayoor (Kerala)
Hazratbal (Jammu & Kashmir)
Kamakhya (Assam)
Kanchipuram (Tamil Nadu)
Katra (Jammu & Kashmir) 
Kedarnath (Uttarakhand) 
Mathura (Uttar Pradesh)
Patna (Bihar) 
Puri (Odisha)
Srisailam (Andhra Pradesh)
Somnath (Gujarat)
Tirupati (Andhra Pradesh)
Trimbakeshwar (Maharashtra)
Ujjain (Madhya Pradesh)
Varanasi (Uttar Pradesh) 
Vellankani (Tamil Nadu)

The idea of PRASAD scheme was introduced with the following objectives: 
control and develop pilgrimage tourism for its direct and multiplier effects on economic and social development
Enhancing the pleasant appearance of the tourist destination in a sustainable manner by budding world class infrastructure in the religious destination
Creating responsiveness among the local people about the importance of tourism for them in terms of increase in income, better living standards and overall progress of the area
Promote ethnicity of the destination by encouraging local arts, cultural, handicrafts, food etc. to maintain and develop identified spots