River System of India: Rivers can be classified on the basis of catchment area. A major river is having a catchment area of 20000 sq. k.m or above. Catchment area with 2000-20000 sq. k.m. is called medium river and river with less than catchment area of 2000 sq. k.m. is called a minor river. In India, we have 14 major rivers, 44 medium rivers and a large number of small rivers.
3. Brahmaputra: 
It rises at Tibet, flows east in to the southern Tibet, enters in India as Dihang. It flows through 1700 km. in China, near Lhotse Dzong, it opens up a navigable channel, for about 640 km, further a series of rapids. It enters in to great loop in to the south west of Arunachal Pradesh. 720 k.m it flows through Assam. The downstream (confluence of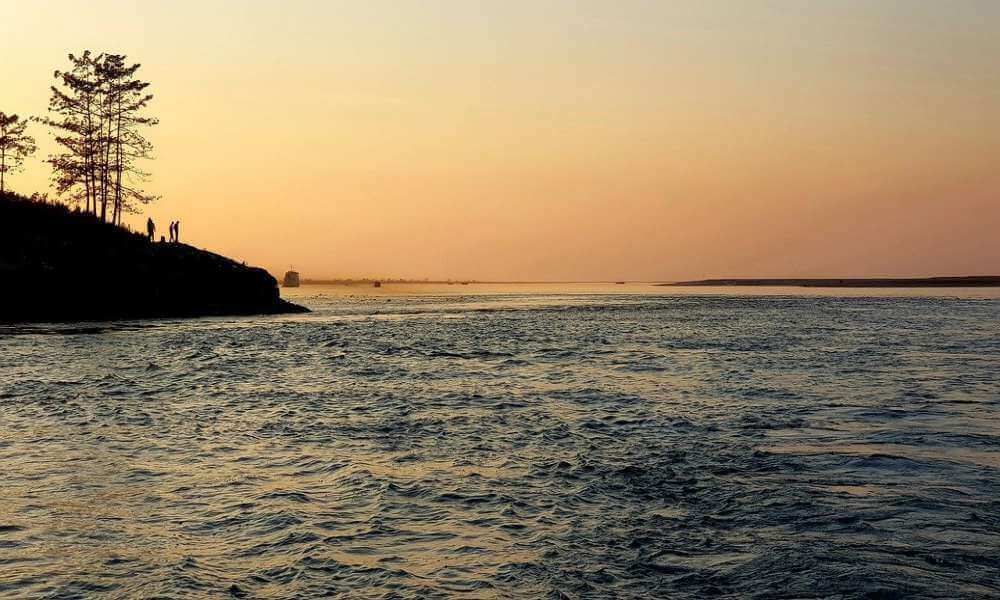 Dibang, Lohit and Dihang) is known as Brahmaputra. Brahmaputra River System include
Teesta River: Rises from Zemu glacier on the eastern side of Kanchenjunga. Main tributaries are Lachung, Rangit, and Lhonak.  Torsa: it enters Arunachal Pradesh from Bhutan
Raidak: Drains a part of Western Bhutan
Manas : Part of Bhutan and Arunachal Pradesh, flows through Assam before it joins Brahmaputra.
Kameng: Rises from Kangto group of peaks. 
Subansiri: It is also known as Gold River, flows through the tropical forests of Arunachal Pradesh and merges with Brahmaputra at Majuli in Assam. In its total stretch, 170 km is in Tibetan territory, 250 k.m. in Eastern Himalayas, and 86 k.m. in Assam.
You are reading River System of India Part-II
B. Peninsular rivers
Peninsular rivers are much older than Himalayan Rivers. Most of these rivers are nonperennial and mainly depend on rains. Rivers are characterised by broad valleys and low gradient. The east flowing rivers form deltas during its course to sea, whereas most of the west flowing rivers sea or form estuaries. The source of the peninsular rivers include Western Ghats, Aravallis, Vindhya and Satpura ranges. 
1. Narmada
River Narmada is the third longest river of the Peninsular Rivers and the longest west flowing river. It originates at Narmada Kund in Amarkantak, flows through the rift valley of Vindhya and Satpura ranges, covering a long distance in Madhya Pradesh and finally merges at Arabian Sea. It acts as the life line of three states viz. Madhya Pradesh, Maharashtra and Gujarat. Ptolemy and Periplus mentioned this river in their writings. 
It is one of most holy rivers treated with great reverence by Hindus. Omkareshwar, Maheswar are located on the banks of river Narmada. Popular saying is Narmada ke Kanker utte Sankar means pebble stones of Narmada get a personified form of Shiva. Pachmarhi is a popular hill station visited by large number of tourists is the highest point of Narmada basin. Sardar Sarovar Dam project, a series of small and big dams in Narmada aimed to provide water supply to domestic and industrial purposes.  
2. Mahanadi  
Mahanadi means the great river. It rises at the extension of eastern ghats, Damtari district of Chattisgarh, enters in Odisha and merges with Bay of Bengal near Paradip. It has a length of 851 k.m. It is bounded by the Central India Hills on the north, Eastern Ghats on the South and east and Maikala range on the West. Based on water potential and flood producing capacity this river occupies second position in the peninsular rivers. Main tributaries of the river are Seonath, Hasdeo, Mand, Ib, Ong, Tel and the Jonk.  
3. Godavari 
The Godavari river basin mainly covers Maharashtra, Andhra  Pradesh and a small share of Madhya Pradesh and Odisha. The basin is bounded by the Satmala hills on the north, Ajanta range and the Mahadeo Hills on the south east by eastern ghats and west by western ghats. It rises near Nashik in Maharashtra at an elevation of 1067 meters. The total length of this river is 1465 k.m. Main tributaries of Godavari are Pravara, Wardha, Mula, Wainganga, Penganga, Pranhita, Manjira, Indravati and Sabari. The western edge of the river basin gets abundant rain fall during monsoons as the springs originate from the slope of western ghats at an elevation ranges from 400 meters to 2500 meters. It create a delta approximately with a width of 170 k.m. at while merging at Bay of Bengal.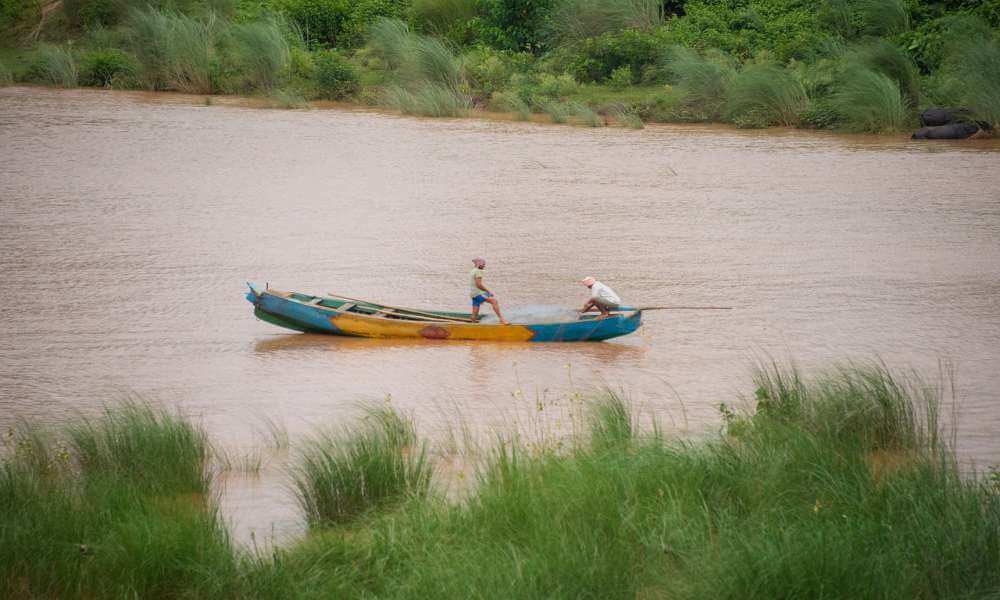 4. Tapi River 
Tapi river (also known as Tapti) is a river of Central India. The river basin extends over
Madhya Pradeh, Maharashtra and Gujarat. It is bounded by Satpura ranges on the north, Mahadeo hills on the east and Ajanta ranges and Satmala hills on the south and Arabian Sea on the West. Tapi is the second largest west flowing river in the peninsula. It rises in Multai reserve forests in Betul District of Madhya Pradesh at an elevation of 702 meters.
The total length of the river is 724 km. 
There are 14 major tributaries out of which 4 on the right bank and 10 on the left bank.
Purna, Girna, Gomai and Panzara are some of the important tributaries. 
5. Krishna  
The Krishna basin lies in Maharashtra, Karnataka, Maharashtra. Krishna river is bounded by Balaghat ranges on the north, Eastern ghats on the south and the east and western ghats on the west. The source of the river is at an elevation of 1337 m near to Mahabaleswar, in western ghats. The total length of the river is 1400 km.
6. Cauveri  
River Cauveri originates at Talakaveri, Coorg hills of Karnataka. It is also called as Daskhin Ganga. The river water is the main source of drinking water and irrigation source for Karnataka and Tamil Nadu. The drainage basin was shared among the former states and Kerala and Pondicherri. It is bounded by Western Ghats on west, Eastern Ghats on the east Krishna basin and Pennar basin on North. The total length of the river is 804 km. The rives empties in Bay of Bengal. The tributaries of Cauveri are Bhavani, Kabani, Suvarnavati, Hemavati, Harangi, and Shimsha.
At Shivanasamudra, the river splits in to two branches and joins at Hoggenakkal after a number of rapids and series of waterfalls. Hoggenakkal Waterfalls attract large number of tourists. The Cauveri delta begins after the river crosses Tiruchirappli (Trichi). The river creates Srirangam Island, in its course. The Great Chola Kings constructed Anicut (an ancient dam, dates back to 2nd A.D.) to use the river water for irrigation purposes in the delta of Cauveri. 
River Cauveri is the major irrigation source for the farmers of Karnataka and Tamil Nadu. This river highly depends on South West Monsoon, and due to poor rain fall in the last couple of years in the upper streams, farmers face severe crisis due to drought and lack of irrigation facilities. 
C. Other Rivers 
Barak : It covers an area of 52000 sq.k.m. River Barak originate at the border of Nagaland and Manipur, flows westward and turn south till it reaches Manipur. It enters in South Assam, further flows towards Bangladesh. It has a length of 525 km.

Subarnarekha: Subarnarekha means the streak of the gold. Gold was mined near the origin point and the name was given due this connection. The source of River Subernarekha is Piska near Ranchi. During its course, it flows through Jharkhand, West Bengal and Odisha. The total length it traverse is 395 k.m. It is a rain fed river. The mouth of the river is near Kirtania Port, Odisha. 
You are reading River System of India Part-II
Brahmani-Baitarani: River Brahmani is a seasonal river. The source of the river is near Rourkela, with the confluence of River Koel and Sankh. The head rivers are originating near Ranchi in Jharkhand. 
Pennar: It is an east flowing river, originates at Chikabellapur in Karnataka, flows through Andhra Pradesh and merges with Bay of Bengal at the end. Pennar drains at the northern part of Kolar Plateau. The mouth of the river at Bay of Bengal creates a large wetland area, up to a width of 7 km. The lagoon created by this river is called as Isakappalli. 
Mahi, Dhadhar: It is a west flowing river, rises at Madhya Pradesh, flows through Rajasthan and Gujarat in course and merges with Arabian sea. The length of the river is approximately 580 k.m. it is popularly called as Mahisagar, and also considered as a sacred river by large number of people.
Sabarmati: It is a west flowing river originate at the Aravalli Hills in Rajasthan. It flows a distance of 371 k.m in South Western direction and empties in Gulf of Cambay. Mahatma Gandhi, father of our nation established his ashram on the banks of Sabarmati River in Ahmedabad. The Sabarmati River front project at Ahmedabad is an example of river front development.  
Luni: It originates at Ajmer, Aravalli ranges of Rajasthan, flows through the Marwar region and drains out at Kutch. The length of the river is 495 km. At the source it is known as Sagarmati. Maharaja Jaswant Singh constructed the artificial lake Jaswant sagar in order to serve the water to the people of the region.
Vaigai: The source of Vaigai river is Western Ghats. It flows through the eastern part of Tamil Nadu such as Kambam Valley, Madurai and finally empties at Bay of Bengal. After River Cauveri, this river serves a very important role for the farmers of Tamil Nadu in terms of drinking water and irrigation.
Rivers, River front and tourism 
Rivers act as a tourism resource and people are attracted to river banks mainly religious purposes, but adventure tourism and leisure activities are promoted in a large way at many rivers. The high gradient rivers and rapids attract adventure tourists to take up rafting activities. Boat cruises are a big attraction in several rivers. River banks are also the venues for largest gathering of the world such as Kumbh Mela (held at once in 12 year on the banks of Rive Ganges (Haridwar and Allhabad), Godavari (Nasik) and Shipra (Ujjain).  
Several cities came up along the river banks and these cities emerged as important pilgrimage centres or the cities of commercial importance. Indus (Sindhu) valley civilisation and its development draw the attention of people of the west to South Asia (India, Nepal, Bangladesh, Afghanistan and Pakistan) or Saptha Sindhava/Aryavartha. Ganga- Brahmaputra-Meghna river system played a key role as the life support of millions of people in different ways. Pataliputra, the confluence of Son, Ganga was the capital chosen by Magadha Kings to strengthen their kingdom during the period of Lord Buddha.  Important cities located on the prominent rivers of India are mentioned below.
| | |
| --- | --- |
| City | River  |
| Leh | Indus |
| Srinagar | Jhelum |
| Jammu | Tawi |
| Manali | Beas |
| Kangra | Beas |
| Haridwar | Ganga |
| Kanpur | Ganga |
| Prayag | Sangham    (Ganga, Yamuna, Saraswati) |
| Varanasi | Ganga |
| Lucknow | Gomti |
| Ayodhya | Saryu |
| Patna | Ganges |
| Bodh Gaya and Gaya | Niranjana/Phalgu |
| Kolkata | Hooghly |
| Guwahati | Brahmaputra |
| Dibrugarh | Brahmaputra |
| Jorhat | Brahmaputra |
| Imphal | Imphal |
| Cuttack | Mahanadi |
| Bhubaneswar | Daya |
| Vijayawada | Krishna |
| Jabalpur | Narmada |
| Mumbai | Mumba |
| Panajim | Mandovi |
| Mysore | Kabani |
| Kochi | Periyar |
| Madurai | Vaigai |
| |   |
| Ahamdabad | Sabarmati |
River front projects: Sabarmati riverfront project is one of the model project designed in the bank of River Sabarmati. Landscaping and creation of recreational space for the tourists, entertainment activities and food courts etc. have been designed. Several other cities, located on different river fronts have also been proposed for the development. As part of this efforts have been taken up by state and central government authorities to facilitate and support the projects with multiple purposes like reducing pollution, encroachment, river rejuvenation etc. Over the years, several rivers have been badly polluted and this resulted in bringing down oxygen levels, paused serious threat to the micro organism and aquatic life. Aarti (a traditional ritual) conducted at the evening and morning hours at the ghats of River Ganga in Haridwar and Varanasi attract large number of pilgrims and international tourists. River Teesta, Beas, Chambal, Zanzkar etc. attract adventure tourists. Tourism also act as a cause to protect the rivers from pollution as increasing awareness about the responsibilities of tourists and service providers help in such directions as tourism is highly depending on the clean environment.