During the recent past, all businesses have become highly competitive and the travel industry is no exception in this context. Such competition has compelled the travel agencies and tour operators to seek ways to become more efficient and profitable in this direction. Since the tourism product is not an independent product rather it is a dependent product, which is formulated by the 'tour manufactures' by assembling various tourism product components – airline seats, hotel rooms, transportation, culture, and so on from other sectors of the economy. Essentially, travel industry has to maintain a close tie with the air industry, hotel industry, cultural and entertainment organizations. Such linkages are vital for the travel or tour operation industry to serve the diverse needs and demands of tourists 
 Below figure describes the linkages in travel trade business. The figure reveals that accommodation, transportation,   recreation entertainment organizations, airlines, hotels have occupied a pivotal place in the travel industry and are supporting the travel agency business. In fact, travel agency or tour operators are creating demand for travel, lodging, food, shopping, entertainment and other tourism sources. Accommodation includes all forms of lodging, even camping and caravanning and all types of food and beverage services, transportation encompasses – airline, rail, road and sea; shopping includes any form of retail purchase such as souvenirs, arts & crafts, clothing and other. Banking and insurance companies offer financial and insurance services; tourism associations offer an opportunity to solve tourism industry problems and follow tourism business ethics; tourism educational institutions provide /supply right kind and quality human resource to operate and manage travel industry in a professional manner. Keeping in view the above mentioned aspects, one can say that, the linkages in the travel industry or the constituents of the travel industry are dependent on each other not only in terms of their business but also in relation to determining their marketing strategies.    For example; a tour company will be able to package a tour with the help of transportation sector, accommodation sector, destination attraction, destination organizations, and so forth. Hence, all tourism services have a direct impact on the product of the tour operator. Figure 1. Describes the linkages in travel Trade :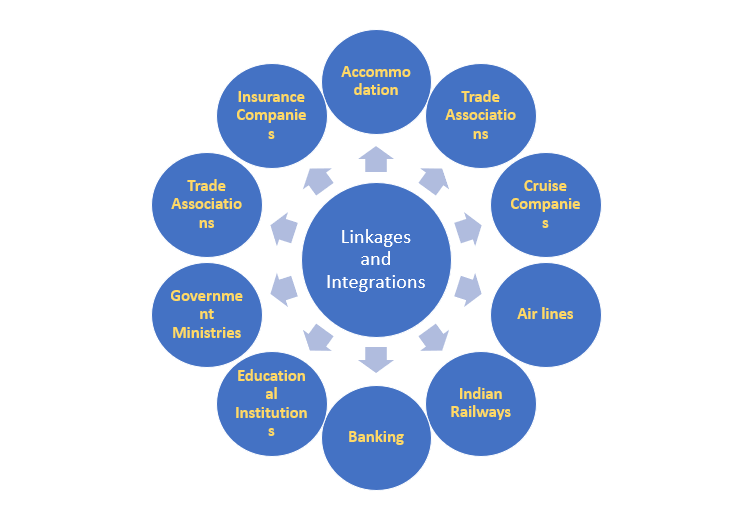 Airlines: International Air Transport Association (IATA) operates a network by which travel agencies sell airline tickets and receives Commission.  Thus the sale of airline tickets is highly regulated and strictly controlled. The agency commission range from 5 to 8 percent but most major airlines offer additional incentives i.e. cash bonuses and over ride commission. However, in some cases when a travel agency purchases air tickets in bulk the margin of commission will be high. This largely depends on relationship between the two organizations. The producer of sale of domestic airline tickets is different from country- to country and even the rate of commission also varies. Today, airline ticketing and reservation is almost entirely automated.
Accommodation Companies : Most hotels and other lodging companies including major Indian and international hotel chains pay commission to the travel agencies, (the rate varies from hotel to hotel) however hoteliers in dealing with travel agencies are more information and less regulated than the airline companies. Interestingly many hotels and hotel chains participate in computer reservation system (CRS) permitting hotel reservation to be made at the same terminal, which is used to sell airline tickets. The commission received from hotels is the second largest component of total agency's revenue. But if the purchase is made in bulk than the profit is based on the negotiated prices and accordingly the profit may be higher or lower.
Cruise Companies: The cruise companies are informally regulated by its Own governing body i.e. cruise lines association which must approve any travel agency that. Desires to sell booking on behalf of any member of a cruise company the raise companies also offer a complete package including sea travel accommodation food entertainment and sometime air travel also. The commission varies room 10 to 20 percent. However most cruise package tour are sold to the public through travel agencies. It was Thomas cook who brought first group of foreign tourist in India through sea rout.
Insurance Companies: Today many travel companies have included travel insurance in their package tour like Thomas cooks. The company insured the travellers to protect them against accident, loss of baggage and missing flights. Successful travel agency management has to make close contact with Insurance companies to obtain insurance policies for its clients. Recently the Oriental Insurance Company has introduced two new travel policies for domestic as well foreign tourist i.e. 'Suhana
Safar' for domestic travellers And 'Videsh Yatra Mitra' for foreign travellers. Incidentally the foreign policy is an upgraded version of overseas medical insurance.
Banking Companies: Travel agencies offer banking facilities to the traveller like clearance of traveller cheques and arrangement of foreign currency. Only those travel agencies, which are authorized by the reserve bank of India under Foreign Exchange Regulation Act 1973, can deal with foreign currency. Banking companies give commission to travel agencies on traveller cheques and currency exchange.
Educational Institutions: An agency's success depends almost entirely on the competence of management and expertise of the staff. It develops manpower planning in such a way that will help to conduct on campus selection and match the student to the requirements of the company. The linkage between travel Companies and tourism education institutions will solve the problem of human resource requirements of present and future. Therefore a travel company needs to maintain close contact and interface with tourism Education intuitions. Many chief executives from the industry are the members of the advisory board of the intuitions.
Travel Trade Associations: These associations provide a common platform to solve many problems of the members such as training, common code of conduct airlines commission to any other. There are a number of travel trade associations like TAAI, ICAO, ASTA, IATA, and PATA, WTO, that are quite active in the Promotion of travel trade at global. Essentially every travel company should be this association to avail financial and non – financial incentives and commissions from the airlines, hotels, railways etc.
Tour operators / destination companies :  The travel agencies need to maintain close ties with many other organizations offering travel related service like cultures and entertainment organizations foreign tour companies' regional passport office, department of tourism both at centre and states sports operators transport operators food and beverage business etc. in fact these organizations play a vital role in making travel a complete product. Travel companies provide business to above cited organization and in return receive commissions. However there are few other originations that help the agency to run travel business smoothly and promote India as a tourist Destination. Technically a Travel Company cannot work in isolation but is interdependence with other travel related enterprises.
         Keeping in view the above mentioned aspects, one can say that, the linkages in the travel industry or the constituents of the tourism industry are dependent on each other not only in terms of their business but also in relation to determining their marketing strategies. It can be supported with an example; a tour company will be able to package a tour with the help of transportation sector, accommodation sector, destination attraction, destination organizations, and so forth.
Meaning of Integration in Travel Trade
   As a lay man integration refers to the end result of a process.  The integration aims to sew up together different subsystems so that the data contained in each system becomes part of a   more comprehensive system that will share ideally, quickly and easily information when required. However, as per business perspective, business integration defined as a strategy whose goal is to synchronize information technology (IT) and business cultures and objectives and aligns technology with business strategy and goals. Business integration is a reflection of how IT is being absorbed as a function of business. It is also used to cross-train management and employees reduce ineffective communication and cut supplier costs. As you analyze your company operations, think of the different ways you can integrate processes to save the company time and money. Thus, integration is the process by which a business can strengthen its arms both financial and economically. 
Types of Integration in travel trade
1. Horizontal Integration:  
Horizontal Integration occurs when two companies merge together; it is where one business which offers a product takes over another business who offers similar products/services. An example of horizontal integration is the First Choice Group and this is because they own First Choice Hypermarket as well as First Choice Travel Agency. The reason why they are part of the horizontal integration is because looking at the buying chain they are on the exact same level. Moreover, when two travel agencies merged to form a new travel agency or one takeover the business of another is known as Horizontal Integration.
2. Vertical Integration
Vertical Integration is when one company expands its business into a variety of different areas; the company buys another similar organisation however it is on a different level of the chain. An example of vertical integration is a hotel company starts travel division to diversify its product line towards tourism.   In the travel industry two companies take over one another in order to find out different ways to sell their products and services to their customers. Moreover, when two are more organisations owned by the same parent company are at different levels of the chain of distribution is known as Vertical Integration.