Travel agency is responsible for organising travel. It in fact, is a travel consultant and organiser for the tourist. At the same time it provides a link to the suppliers of services with the tourists/travellers. Hence we can say that a travel agency is like a retail store, the uniqueness being that it acts on behalf of both, the suppliers as well as the clients. For example, a tourist visits a Travel Agency to meet his travel demands. The Travel Agency makes reservation for accommodation, air tickets, arranges for his pick from the airport and so on. Now at the surface it appears that it is only the tourist who is being catered to or looked after by the travel agency. On the other hand, a   travel agency has also served the airline by booking the seat or the hotel by booking the room. In all these services the Travel Agency has provided business to the suppliers of services while serving the tourist at the same time. This demonstrates the importance of the Travel Agency whose role is growing more and more in the modem world. Not every traveller has the energy or time to organise all travel arrangements. The suppliers too don't have the reach to every prospective customer. Hence, the travel agency plays a vital role between the tourists and the traveller suppliers
FUNCTIONS OF TRAVEL AGENCY
The functions performed by a travel agency depend upon the scope of activities the size and location. The following are the major functions performed by the travel agency-
1. Provision of Travel Information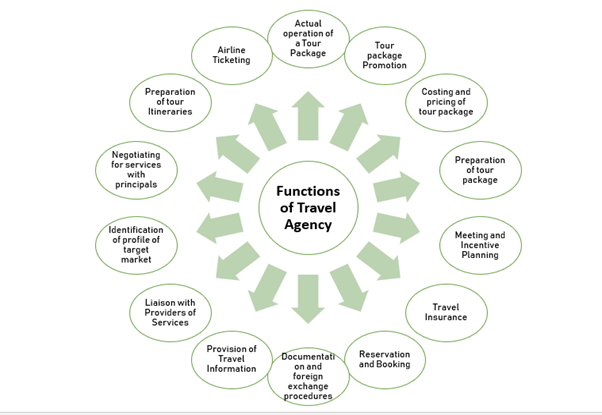 This is the first and foremost function of a travel agency.  The provision of information has become vital aspect of the travel agency business. It makes the difference between a travel agency with others.   The information is provided to the tourists at a convenient location where the intending tourist may ask certain questions and seek clarifications about his proposed travel. This is a very specialized job and the person behind the counter should be a specialist having excellent knowledge of various travel alternate plans. He should be in a position to give up to date and accurate information regarding various services and general information about travel, etc. The presentation to the potential customer must be forceful, and exciting variations much continually be devised to help sell wares. A good travel agent is something of a personal counsellor who knows all the details about the travel and also the needs and interests of the intending traveller. Communication plays a key role in dissemination of any type of information. This is equally true in case of dissemination of travel information. The person behind the travel counter should be able to communicate with the customer in his language. The knowledge of foreign languages is an essential prerequisite for personnel working in a travel agency. Travel agents are required to have a broad knowledge of the world, especially popular travel destinations. When you are planning a leisure vacation, a travel agent can suggest locations that fit your travel wants and needs. For business travelers, travel agents can offer knowledge about locations for meetings and conferences and suggest must-do activities for leisure time. Additionally, a good travel agent can inform you about local laws, customs, climate, travel documentation and travel advisories that concern your destination. Travel agents constantly increase and refresh their knowledge through attending trade shows and workshops and taking trips to familiarize themselves with different locales.
2. Liaison with Providers of Services:
Today, competition has forced the travel agencies to seek linkage or integrate\ion with other corporate houses to secure efficient and quality services. Thus, before any form of travel can be sold over the counter to a customer, contracts have to be entered into with the providers of various services. These include transportation companies, hotel proprietors, the providers of surface transport like motorcars or coaches for transfers to and from hotels and for sightseeing, etc., also for general servicing requirements. The work carried out under these headings is usually that of the owners or senior employees of agencies concerned. In the case of large agency with worldwide branches, the liaison work involves a great deal of coordination with the principals. 
3. Identification of profile of target market
First of all, the travel agency has to select a particular market segment he wants to cater to because possibly one cannot serve all kinds of clients effectively. Once a particular market segment or more than one segments is/are selected, he has to prepare their profile i.e. what age, sex, income, education, social groups they belong to because ultimately there, preference for destination, transport and accommodation and purchasing power depend upon these factors. Moreover, a travel agency has to maintaining records about clients' travel preferences: It's helpful to use a database to track information about clients' preferences (including transportation seating and hotel smoking vs. non-smoking preferences), as well as frequent flier number(s), hotel amenities needs, and other factors you can refer back to so you can provide a customized travel experience every time. On the other hand , a successful travel agency must researching travel destinations- Regardless of whether you've visited a particular destination or not, you'll need to keep up with the changes (both good and bad), attractions and innovations in the most popular tourist areas, as well as explore the new ones your clients mention. Of course, the internet has made the process of researching a breeze.
4. Negotiating for services with principals
Once the itinerary is prepared, the principals (Hoteliers, transportation companies etc.) are approached whether they can provide the services in bulk at possible dates and on what terms. This is a very important phase as the profitability of the tour operator depends to a large extent on it. If he is able to negotiate effectively, he will secure quality services at heavily discounted prices and earn more money.
5. Preparation of tour Itineraries:
Tourist itinerary is a composition of a series of operations that are a result of the study of the market. In fact, a tourist journey is characterised by an itinerary using various means of transport to link one locality with another. Preparation of different types of itineraries is another important function of a travel agency. A travel agency gives advice to interested travellers on the type of programmes which they may choose for their holiday or business travel. The study and the realisation of the itineraries call for a perfect organisation (technical and administrative) as also knowledge of the desires of the public for a holiday and the propensity to receive tourists by the receiving localities.
6. Airline Ticketing
An airline ticket is a document, issued by an airline or a travel agency, to confirm that an individual has purchased a seat on a flight on an aircraft. This document is then used to obtain a boarding pass, at the airport.  Many small scale travel agencies are satisfying with selling airlines tickets. The major revenue structure is commission received from airlines. Selling tickets to clients using different modes of transport like air, rail and sea is yet another important function of a travel agency. In the present scenario, due to drastic changes in international airlines as well as in the local air schedules and additions of new flights from time to time makes the job of the travel agent more challenging. An up-to-date knowledge about various schedules of air companies, Steamship companies and railways is very essential for the success of a travel agency. Computerised reservation system (CRS) has in the recent years rather revolutionised the reservation system both for air and rail seats and also a room in a hotel. Many large travel agencies are using this system. This system comprises a computer network that can be used by the travel agent to reserve an air or rail accommodation as also accommodation in a hotel. Through a wide network confirmation of reservations are available in a matter of seconds.
7. Documentation and foreign exchange procedures
If the package includes crossing frontiers, the tour operator like a travel agent expedites the process of documentation—passport, visa, permits etc. and also arrangements for foreign exchange from concerned authorities. Apart from this some tour operators get all their clients insured for the period of their package.
Passport – Valid for at least 6 months from your travel date
Air Ticket – Confirmed return air ticket. A one-way air ticket will be accepted only for students or working professionals (Student Visa or Work Visa holders), as well as dependents of the working professionals
Visa – Valid visa for the country you are visiting. You will also require a Transit Visa if you are transiting for more than 12 hours. Please check Transit Visa rules for the country of transit.
There is no trade that can take place without the presence of forex, the conversion of one country's currency into another. Whether it is for import and export, travel, or purely for trading, foreign exchange is a necessity. Foreign exchange can be purchased from Authorised Dealers (AD), Category-I banks and AD Category II. Full-Fledged Money Changers (FFMCs) are also permitted to release exchange for business and private visits. In today's world, people frequent foreign countries either for work purpose or leisure. Availing foreign exchange abroad may not be an easy task. Searching for the right place to get a currency exchange can be a hurdle. Provision of foreign currencies to intending travellers is another specialized activity of a travel agency. Some of the larger travel agencies deal exclusively in the provision of foreign currencies, travellers' cheques' etc. This is an important facility to intending travellers as it saves them a lot of time and energy in avoiding visits to regular banking channels.
8. Reservation and Booking 
One of the most important duties of a travel agent is booking accommodations, car rentals, flights, cruises, trains, buses and tours. They have access to direct inventory for many accommodations and travel arrangements, giving you options that you may have missed by searching for yourself online. A travel agent may also be responsible for rebooking or making alternative travel arrangements due to unforeseen circumstances. In the event of bad weather, for example, a call to your travel agent may be more helpful, or at least less stressful, than standing in line at a ticket counter waiting to be rebooked.
9. Travel Insurance
    Travel insurance is intended to cover medical expenses, trip cancellation, trip interruption, lost luggage, flight accident and other losses incurred while travelling, either internationally or domestically. This will extend coverage for the cancellation of a trip for specific unforeseen, covered reasons. Commonly, travel insurance plans will cover reasons such as: The unexpected illness or injury of you and/or a travelling companion that deems you unfit to travel, by order of a licensed physician. Trip cancellation insurance covers you for the period of time before you travel. It reimburses you for any prepaid, non-refundable expenses — such as airline tickets or hotel rooms — that you cannot use because you had to cancel your trip. Trip cancellation insurance generally kicks in if the cancellation is due to an unforeseen accident, illness, or other specified event that affects you, a close family member, or your travelling companion. On the other hand Trip interruption insurance covers you during your trip. If an injury, illness, or other event prevents you from continuing a trip you've started, trip interruption coverage will reimburse you for expenses you incur because of it. Some policies also reimburse you for any unused prepaid expenses. Thus, Insurance, both for personal accident risks and to baggage, is yet another important activity of travel agency. Some of the larger travel agents maintain sizeable shipping and forwarding departments, aimed at assisting the traveller to transport personal effects and baggage to any part of the world with a minimum of inconvenience. There are numerous insurance policies focusing on travel insurance such as tour interruption policy, baggage lost policy and so forth.
10. Meeting and Incentive Planning 
The business events sector is one of the highest yielding inbound tourism segments. Meeting and incentive planners organise and manage all aspects of meetings and events including conventions, conferences, incentives, seminars, workshops, symposiums, exhibitions and special events. Meeting and incentive planners use a wide variety of venues, tour operators, accommodation, team building companies and restaurants. They look for unique travel experiences and require different support and facilities to leisure tourism. Meeting and incentive planners are also known as: Professional Conference Organisers (PCO); Destination Management Companies (DMC); Conference Managers; Event Managers; Incentive Houses; Travel Fulfilment Companies; and Special Project Managers.
11. Preparation of tour package
A tour package includes transport, accommodation and entertainment facilities. The package is prepared keeping in view the preferences of target market regarding transport, accommodation and entertainment facilities; and time and money at the disposal of tourists. The first step in formulation of package is itinerary preparation which is the preliminary form of the package itself.
12. Costing and pricing of tour package
After this the costing of the tour is done. First the cost for the full tour is done. Some extra cost is added for unforeseen contingencies. Then occupancy rate is estimated and then the cost per head is calculated. Some contribution towards administrative expenses and fixed cost is also taken care of. The cost per head refers to the cost the tour operator has to bear for that package. For pricing, he has to add a certain amount of profit to it. The amount of profit depends upon the operator's objectives and pricing policy he has adopted.
 The contracts and arrangements having been entered into their comes the task of planning costing tours, both for inclusive programmes and to meet individual requirements. This job is intensely interesting and at the same time challenging. The job calls for a great deal of initiative and drive. The Job cal is for travel to those places which are to be included in the itineraries. Paradoxically, many of those who do this type of work visit comparatively few of the places included in the itineraries they prepare. This is essentially a job for a meticulously minded pc son and call for considerable training and ability. Many agencies with the cooperation of airlines and other transportation companies take the opportunity of arranging educational tours for such staff to countries with which they deal.
Many large agencies have people who are authorities on particular countries and, in addition to a general programme many will issue separate programmes dealing with specific territories. Separate programmes dealing with holiday offers based on specific forms of transportation, e.g., air, rail, road or sea may also be prepared. Programmes also have to be issued to cover different seasons of the year.
Publicity is an important part of the programme. Having spent considerable time and money on preparing all that goes into the issue of a programme, publicity must feature considerably in the activities of a travel agency and more so if the agency happens to be a large one. The majority of large travel agencies have their own publicity departments under the management of an expert in the publicity field.
 13. Tour package Promotion  
   Despite increasing competitiveness in the tours and activities marketplace, company don't have to dump money into marketing and advertising efforts. The key is to creatively use different platforms to engage your audience and generate more bookings each season. While the customer experience should always be a priority to generate the all-to-worthy word-ofmouth marketing, there are several ways to present your company in the best possible way online and encourage customers to buy your product. Once the tour package is formulated and priced, it is ready for sales. However, prior to that, it needs to be promoted so that the targeted tourists may come to know about it and are motivated to purchase it. There are different methods with the help of which the packages are promoted—advertising, personal selling, public relations, publicity, and sales promotion etc. Familiarisation tours are fast becoming a favourite of tour operators as a promotional tool.
14. Actual operation of a Tour Package
The final and perhaps the most important function of a tour operator are to execute the tour he has sold. He has to ensure that all the facilities which had been promised by the principals and in turn, which he promised to the tourists are actually provided to the tourists. Usually a tour escort accompanies the tours who look after the tourists. Guides and interpreters are also sent along with the tourists whenever necessary.