Baggage Handling Systems: A baggage handling system primarily consist of various areas that aid various roles comprising inputs of baggage, screening area, makeup area and claim area. Furthermore, the support areas for baggage handling system are necessary which contains space used for motor control rooms, control rooms.
Programmable Logic controller vaults and supplementary non conveyor components of baggage handling system. And the support areas of the BHS may vary greatly depending on the air terminal cost, design and functions. The input areas to insert baggage into the baggage handling system are ticket counter areas, baggage check in areas and any other conveyor lines.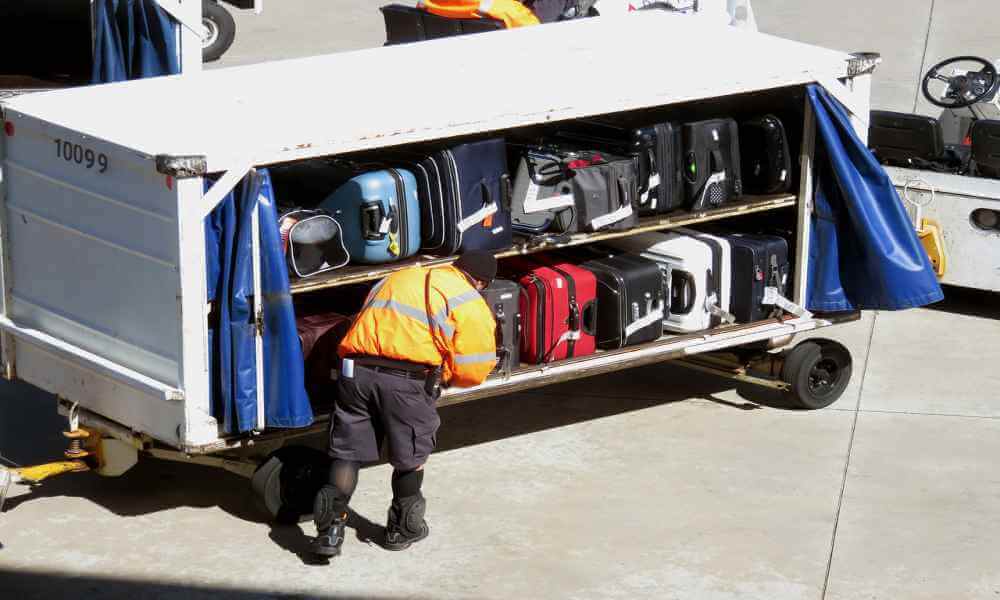 A programmed or electronic inline baggage screening systems which are widely used in the air terminals is known as the screening area. These programmed baggage screening systems comprises explosive detection systems (EDS) units which consists of one or more matrixes.
 The Baggage Handling Systems also has a makeup area that is designated berths or piers or makeup devices for heaping the luggage onto the related flights. In case the makeup area is without sortation, the luggage is sorted manually. The claim area comprises of a flat plate or slope bed baggage delivery and various configurations of oversize baggage delivery.  The baggage and passengers are divided into 6 prominent categories:
International Originating Passengers' 
Domestic Originating Passengers 
International Destination Passengers' 
Domestic Destination Passengers 
International Transfer Passengers 
Domestic Transfer Passengers
All the volume of the passenger categories decides the type and size of baggage handling system and the various phases required for their planning. In absence of any accumulated data of baggage carried. It is advocated that 1.25 to 2.0 bags are carried by international passengers while 1.0 to 1.25 bags are carried by domestic passengers.
 And surely the originating passenger's arrival summary pooled together with a flight schedule helps to calculate the baggage volumes of the outbound travel in a day. This in turn can help to size the input and checked baggage screening and requirement of baggage makeup systems.
And, the same goes with the pattern of arriving flights, where the baggage volumes arriving passengers pooled together with flight schedule help in estimating the requirements for inbound baggage handling and baggage claim area.
The space and structure of the air terminal decide the corporal arrangement of departures, arrivals, and baggage make-up facilities. If, the air terminal is a multi-storied building, then arrival and departure locations can be present on the different levels.
On contrary, if the terminal is a single level facility, then in that case the facilities for arrival and departure can be present on the same level. Generally, the large and multi-storeyed structures have departure levels above the arrival levels. But, each service area for traveller should give best service or excellent level of service. 
During the peak seasons, retractable walls can be designed in the claim areas to provide excellent services to the travellers and at the same time give excellent level of service. Hence, the airport owner should also take into account the budget of BHS keeping in mind the requirements of the arrival and departure services. 
The outbound baggage have five types of inputs that is staffed check-in counters, self-service check-in kiosks, bag drop counters, self-tagging stations, curb side check-in.
The baggage flows which need to be considered are of nine types, that is:
Domestic Check-in. comprises of all levels of service (LOS) provided within the same area i.e. first class, business, and coach class check-in.
International Check-in: is present where the flow of international travelers is huge and of course the terminal is bestowed to check in facilities of international traffic. If, the domestic & international is catered at the terminal, then it can use the same conveyor belt; until there are no scheduled international departures. 
Remote Check-in: In case the airport terminal has high flows of family vacationers or travelers going for business conference. In that case, for check-in and transfer of luggage, there are appropriate secured vendors, though for suitable baggage screening proceeding to departure.
International Recheck: may be present in case the international domestic passengers are going via domestic flights. 
Odd-Sized Check-in: in case the baggage of the international or domestic travelers is large or of odd size. In that case the operation cannot be performed by normal conveyor belt and would require an odd-sized belt system or handled manually.
Group Check-in: These checks in counters are present at vacation destinations and have the belt which nourishes outbound baggage system. 
Transfer Baggage: In the main hub destinations, huge capacities of baggage transfer is not possible unless there are separate load belts which feed the outbound baggage system which is further connected to automated or manual sortation system.
Early Bag Storage systems (EBSSs): are used in some facilities, when huge amount of transfer bags arrive prior than flight departure. These systems are separate than the outbound baggage systems and feed the Baggage Handling Systems for sortation & delivery. A dedicated transfer load belt or an alteration from the outbound sortation system may facilitate the early originating bags.
Special handling items: Such as pets, firearms, sports gears, bikes, wheel chairs, medical instruments are non-conveyable in nature and require specialized procedures for handling & delivery. 
Baggage Sortation Systems
These are used in the sorting of baggage & luggage. They are broadly of four types:
Centralized sortation (localized to terminal)
Decentralized sortation (localized to gates)
Common-use sortation system
Manual sortation
Centralized sortation (localized to terminal): It collects all the baggage. Then, initiating and transferring to one location and further transferring luggage to sortation system. These systems use automated tag readers (ATR'S) for automated scanning and universal encoding consoles (UECs) for manual sortation, in case the automated scan fails.
Decentralized sortation (localized to gates): sorts the bag at two or more locations and actual sortation performed adjacent to the individual airplane. 
Common-use sortation system: combines all of the bags of all airlines into a common sortation and delivery system. These sort the bags by carrier destination.
Manual sortation: do not use automated tag readers (ATR'S) and universal encoding consoles (UECs). The baggage sorting occurs manually by using UEC i.e. manual encode stations in the baggage make up area. 
In order to do appropriate operation of the baggage sortation, the following elements are important such as: 
Drive aisle/drive-through rights-of-way and circulation
Baggage cart staging
Building column spacing
Maintenance and bag jam clearing access
BHS control room
Human–machine interface graphics
Motor control panel locations
Programmable logic controller vaults
BHS maintenance room
BHS spare parts room
BHS remote monitoring locations
The two main types of mechanical baggage claim areas are flat plate units comprising the configuration as "L," "T," or "U". Bags are loaded on the secured non-public side, then pass through the wall, and are claimed by passengers and sloped bed units can be present anywhere and the feed conveyors able to reach unit from above or below. 
The odd-sized baggage is moved in three ways i.e. oversized belt (45 to 65 inches broad), oversized slide (6 to 10 feet in width) and the manual lay down. Baggage Handling Systems

Also read Leading Airlines of the world