Airport lounges may be defined as the specialized seating area in the airport where passenger can sit, relax, enjoy refreshments and other services including beverages, enjoying playing games, snacks, and can read books, periodicals etc.
Specified rooms in an airport where first class, business class passengers can listen to music relax; enjoy drinks while waiting for their flight is known as first class lounge. Airport Lounge is a hospitality facility not only for VIPs but also for all kinds of passengers. It offers very comfortable seating, better facilities free from busy environment of airport.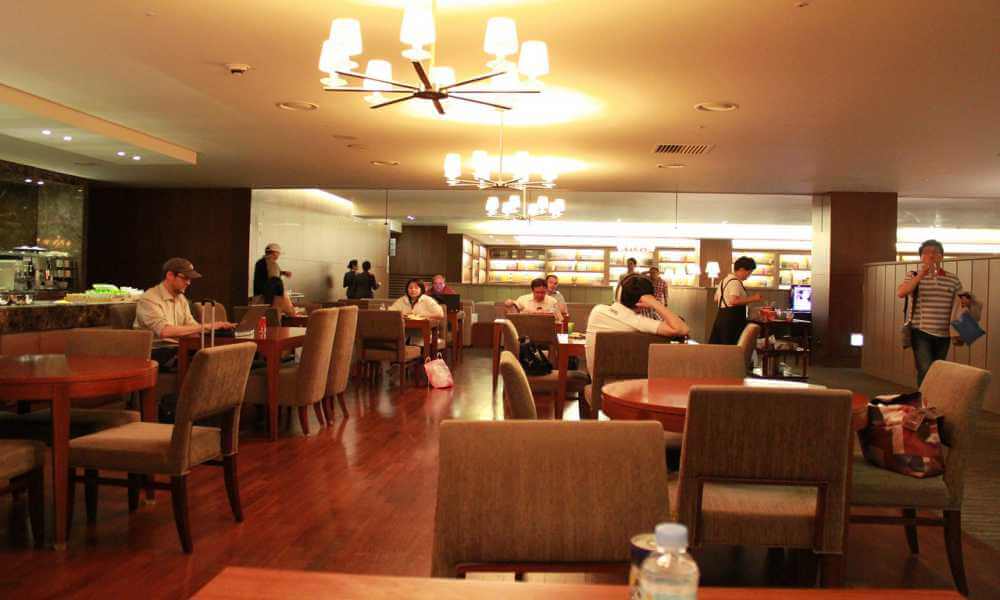 Specially hired professional handling agents will assist passengers during check-in, security check and baggage-handling procedures etc. also provides passengers about the flight information. A numbers of facilities are provided by airport lounges including private meeting rooms, Wi-Fi with laptop access, free beverages with snacks and other services.
The first Airport Lounge was the American Airlines Admirals club at New York City and LA Guardia Airport in the year 1939.
Also read European Airports with IATA Airport Codes
Generally economic class passengers use lounges through pay per use, day pass or through membership method. Passengers are required to book airport lounges in advance for the busy large flights.
They can book airport lounges just before 24 hours of the departure of the scheduled flight and can also book lounges by using pay per use method at lounge entrance on the same day. Lounges are not only for VIPs but also for all kinds of passengers. 
Facilities in Airport Lounges
Following are the main facilities provided at the airport lounges to its passengers.
Airport lounges provides very comfortable seating for its passengers, beside that free beverages included alcoholic and non-alcoholic beverages along with snacks. (for example tea, coffee, cappuccino, juice, bear, fruit, cheese, soup, muffins, almonds, soft drinks, water, bear, wine, vodka and other breakfast items.
In North America open bar facility is provided in number of lounges where imported beer, wine, high end wines and champagne all are available for purchase also.
Other facilities that airport lounges provided to its passengers include TV with number of channels, newspapers, periodicals, magazines, Wi-Fi with laptop access etc.
For Business Clients special business desk is there to cater the needs of clients; facilities like photocopying, scan, fax are being provided, private meeting rooms with projectors, writing pads, internet workstations, food and beverage service is also provide to meet the needs of meeting partners.
In Asia and Europe lounges are very luxurious providing satisfied services to its premium clients, special bar is there with imported wines and champagnes, cold buffet meals, cigar rooms, spa arrangements are there, fitness centers are there so guest can better enjoy services before and after the flight arrival and departure, shower rooms, private cabins are there.
For recreational purposes various games are there like pool tables, snooker etc. For children also numbers of games stations are installed to provide better experience. 
Types of Airport Lounges:
1. Airline Lounges: 
These lounges are special lounges, which serve to its premium passengers or those passengers who are flying in first class and Business Class. Airline lounges facilities are also provided to frequent fliers in order to build airlines brand value. Booking of airline lounges can be done advance with some additional charges.
Major airports have one or more lounges in order to serve their clients better and make their journey more comfortable and relaxing.
For e.g. Major US airlines. Delta (Sky club, American Admirals Club) Operates number of lounges in their respective hubs while small airlines operate few lounges like Alaska.
Also read Indian Airports with IATA Codes
Most of the countries outside North America and Australia give lounge access to premium class passengers or to frequent fliers only. North America and Australia generally do not sell lounge membership. If passengers take lounge membership then they can have access to lounge features of alliance airlines also.
For e.g. Qantas Club membership give access to Air Canada and Air New Zealand as well as allstar alliance members.
2. Pay Per Use Lounges:
These types of lounges are for any traveler who is travelling though airline by paying a fee. In this class of ticket is not considered, not necessary to be a Business Class/First Class or Premium Passenger. Any traveler can have access to lounge subject to payment of fee. Day passes are also there, beside that yearly or lifetime membership are also provided by some of the airlines.
Lounges can be booked online or through mobile apps, popular app for lounge booking is Lounge Buddy App, Clients can pay money via online mode using their credit or debit cards. Passenger can also purchase one-day lounge pass directly at the lounge entrance.
Most common example of Pay per Use lounges is Aspire Lounges (Swiss port) and Plaza Premium Lounge.
3. First Class Airline Lounges: 
First class lounge is offered to premium passenger/two tier passenger or first class passengers. With modern amenities in order to take complete care about the passengers comfort and valuable experience at the airport. These are more exclusive lounges and generally more amenities are offered than that of the business class.
First class passengers can also enjoy business class lounge if they wants too. Number of airlines provides arrival lounges for first class passenger after long haul International flights so that the passenger can enjoy lounge facilities during the hectic schedule of their long flights.
Lounges Access:
Passengers can have access to lounges by several ways. One of the way is to take yearly or lifetime membership which is the very popular method among premium class passengers.
This method is popular in countries like, Canada, United States (US) Australia etc.
Where in Asia and Europe discount is provided to the frequent flier passengers 
Most of airlines allow its first class or business class passengers to have free access to lounges during their arrival.
Pay per use lounges is available for all kinds of travelers. They can book lounges at the lounge entrance also by paying fee
Several passes are also there for lounge access for one year or lifetime etc. with annual fee. 
Number of cards offers lounge programs to members 
For e.g. American Express Platinum and Centurion Card, Dinner's Club International Card etc.
Also read Class of Tickets in Airlines
Ways to Access a Lounge:
There are numbers of ways to access a lounge. Some of the popular are as follows:
Buy a first or business class ticket: This is the most easy and convenient way to access the airport lounge. Most of the airlines give access to separate luxurious lounges to its first class or business class passengers with free beverages services.  
Generally International first class passengers can bring one guest for free and can have access to first class or the business class lounges. Whereas International business class passengers can have access to business class lounges only with no free guest allowed. Domestic first-class passengers can bring one guest for free with first class or business class access whereas domestic business class passenger have access to business class lounge only with no free guest.
2. To an Elite-Flyer Passenger: To Elite status passengers within airline (either silver or gold or equivalent categories or class) passengers can have access to the lounges.
3. Pay for Airport Lounges or Buy Membership for it: Passengers can access to airport lounges by paying for it or either buys membership for one year or for lifetime. Generally memberships are costlier but there are special sales offers on membership, which makes it less expensive to buy.Many airlines also sell day passes, which are cheaper mode to access airport lounges but not efficient one.
4. Get Credit Card that Offers Lounges Access: These are number of credit card travel oriented companies, which gives passengers access to airport lounges. Annual fee varies from one company to another. For e.g. US Airway Club and Delta Sky Club is the popular one. The premium credit cards are the most popular one. The premium credit cards are the most popular one than other several cards with low annual fees and give passengers access to airport lounges.
Additional options to access Airport Lounges:
Buy a pass in advance: If passengers buy a pass before they are at lounge they can access airport lounge at cheaper rates.
Buy Lounges Passes from other travelers: Buying passes from other passengers is also the cheaper mode to access the airport lounges.
Go to Other Lounges at Airport: There are number of lounges at airport. Passengers need to access them, which are providing facilities at low rates. Some lounges are premium class providing shower facility, fitness center, spa arrangements etc. while other only provide better seating arrangements with refreshment.
By using VISA Airport Lounge Access Program:
In India passengers can access to airport lounge by using Visa Infinite or Visa Signature Card or Business Platinum and Corporate Platinum Card. Passenger can enhance a travel experience by enjoying comfortable seats, music, internet access, and beverages etc.
Food and beverages services include tea, coffee, snacks (Hot and Cold Snacks from buffet), and alcoholic drinks (Unlimited). Other facilities include luxurious sitting area, exclusive washrooms, LCD TV, Free WIFI. Additional charges may be there for other F and B services, spa facility / massage services.
Numbers of Indian lounges are participating in Visa Airport Lounge access program.
For e.g.
Plaza Premium Lounge, New Delhi.
Clipper Lounge, Mumbai.
Mumbai Airport Lounge (MALS).
Travel Club (TFS), Chennai.
Plaza Premium Lounge, Bengaluru.
Priority Pass:
It gives passengers to access to around 600 lounges across the globe, whereas membership gives passengers access to single carrier airport lounge.
It's Membership is accepted around 300 cities in the world and gives passengers access to airport lounges spread across the globe, providing complementary beverages, snacks, Wi-Fi access and gives passengers crowd free and calm environment. Meeting rooms or conference rooms and computer terminals are available at the number of lounges.
Membership Level at Priority Pass:
It sells three types of the memberships depends on the budget of the passenger.
Standard: $27 per person (Member or Guest)
Standard Plus: $249, 10 free visits are there in this after that $27 per person
Prestige: $399, unlimited free access to priory pass lounge for entire year. Guest can access at $27 per person
Importance of Airport Lounges:
A well designed sitting area for airline passengers give them a sense of comfort, calm/peaceful environment from the hectic and crowded environment of the airport. During check-in procedure, baggage handling and security check etc. passenger has to wait in the long queues, which makes them irritated and stressed. To make the journey of passenger more enjoyable and stress-free airport lounges play very important role. 
Over the past couple of years aviation industry and differ air carriers are working very hard to create a new brand experience in order to retain customer loyalty. With the increasing competition also numbers of facilities are provided at airport lounges to its clients with modern ambience and luxurious sitting arrangements.
Besides providing basic facilities like sitting arrangement, free Wi-Fi, beverages, and snacks, TV, Magazines, and Periodicals etc. More efforts are put to provide proper fitness centers, spa/massage facilities, shower facilities, meeting rooms/conference rooms, movie theater, shopping facilities, sleep rooms, beautiful scenery views (like in Swiss Airport), Restaurants with Terrace view etc. 
Airport lounges are very important for the airlines also because over the past years huge revenue is coming from airport lounges. Now a days all kinds of passenger whether VIP, economic passengers all need better services and want to make their journey more relaxing, enjoyable and stress-free.
Various marketing strategies are adopted by the airlines in order to sell airport lounge packages, yearly memberships/lifetime memberships in order to build the clients. Airport lounges provide great travel experience, specially hired professional staff for check-in, baggage handling procedure etc.
An open bar in the VIP lounges, premium cabins, and sleep rooms attracts the passengers; rather than waiting in the crowded area passengers prefer to sit in calm and relaxed environment.
World best airport lounges are as follows:
Virgin Airlines
Emirates Airlines
Iberia Airlines
Following are the main reasons why airport lounges are important:
To get peaceful/quiet and comfortable sitting area: Airport lounges offers peaceful, crowd free sitting arrangements with very comfortable chairs, leg space, large screen TVs. Number of airport lounges offers free local calls also. Good stock of National and International newspapers and magazines is also there.
To get some work done: Lounges are great to get your work done. One can make presentation, check emails or facebook. Lounges give passengers access to internet with computer power sources where they can charge their laptops etc. 
To get Personal Assistance: Passenger handling agents are there in airport lounge that helps passengers in fast track-check-in; assist them in baggage handling, changing seat assignment etc.
Arrival Recovery: On arrival of the flight passengers can access airport lounges which specially cater to the needs of arriving passengers. Airport lounges provides refreshing drinks, provides facilities like clothes ironing services and exclusive shower facilities so that they can feel relaxed and stress free after the arrival of flight.
Noshes and Beverages: One of the main features of airport lounges is spread of noshes. It includes variety of nuts, pretzels, crackers and an open bar with bear wines. (Popular variety of wines, soft drinks etc.) Some Airport Lounges also prepare hot snacks.
Airport Lounges spread across the World (World Wide Network):
Airport lounges membership gives passengers access to number of lounges and other members of the same alliance. For e.g. with priority pass one can have access to lounges in more than 300 cities.
For e.g. Cathay also operates one of the best lounges in the world famous for its signature noodle bar. Qantas Airport Lounges are also very famous. One world lounge in Singapore is the most popular one. 
Also read World Major Airports with Official Codes