Wetlands are the areas where the surface of the soil is covered by water all through the year or varying according to natural features. Hydrology largely defines the ecosystem present in a wetland and other factors are kind of plant species and aquatic life being present or grow over a period of time. The Merriam Webster dictionary defines wetland as land or areas that are covered often intermittently with shallow water or have soil saturated with moisture. Water bodies, natural or artificial, static or flowing, fresh water or brackish water can be treated as wet lands. Terms often used to indicate wetlands are bog, fen, marsh, marshland, mire, moor, morass, muskeg, slough (also slew or sl ue),swamp land, wash, swamp etc.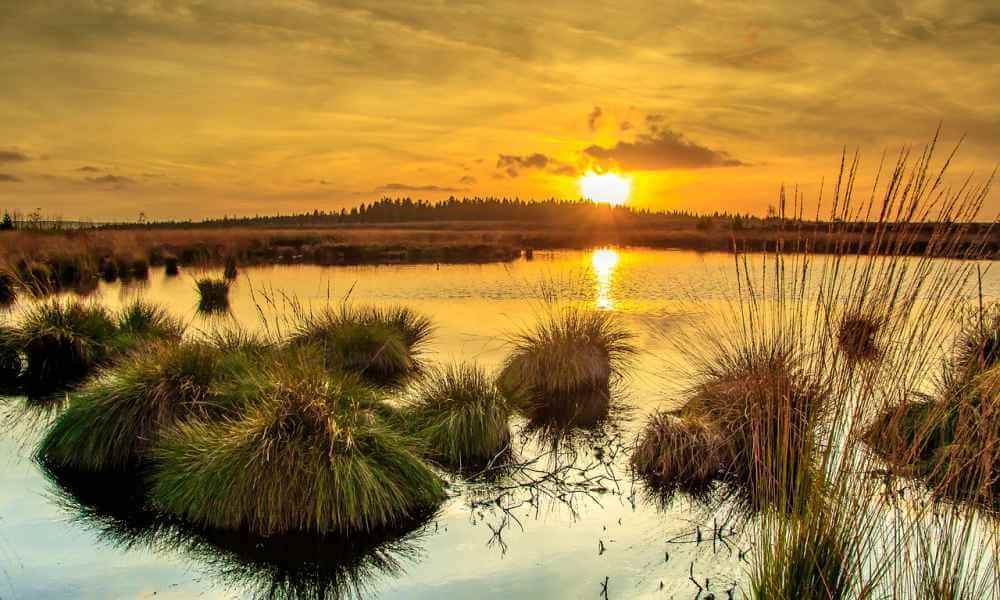 How wetlands are formed?
Wetlands are formed naturally or artificially. Depressions, slopes of the valleys, riverine areas, high tide areas which leads to the formation of lagoons, flood zones etc. Construction of dams also leads to the formation of wetlands. Stagnation of water over a period of time lead the development of hydrological system, which become a habitat for birds, micro-organism and the initiation of a sophisticated ecological system. 
Classification of Wetlands
Cowardian et. al. (1979) classified wetlands based on its association with hydrological, ecological, and geological aspects. They are marine (deltas, tidal marshes, mangroves and swamps) lacustarine (lakes) and riverine (rivers and streams). Wetlands vary according to the genesis. Ramsar Convention held at Iran classified wetlands in to 42 categories.
World Wide Fund of Nature (WWF) classifies wetlands in to marine, estuarine and  riverine. Ramsar Convention classifies the wetland system in to

 marine ( coastal wetlands including coastal lagoons, rocky shores, seagrass  beds and coral reefs);
 estuarine ( including deltas, tidal marshes and mudflats, and mangrove  swamps);
 lacustrine ( wetlands associated with lakes);
 riverine (wetlands along rivers and strea ms);
 palustrine ( meaning "marshy" – marshes, swamps and bogs).
Wetlands are the home to rich bio-diversity. According to WWF, wetlands can be as
small as a pond to large lakes. Coastal wetlands are called Pocosins in Southern United
States. Eg. Pantanal- the largest wetland in the world situated in Brazil, Bolivia and Paraguay in South  American continent. During the raining period  majority of the area is submerged under water.
Importance of Wetlands: 
Wetlands represent a complex ecosystem. The wetlands are the home for various kinds of aquatic life and breeding ground for several species of birds. Tidal wetlands act as a buffer zone which restricts the high tide movement to the shore.
Further it leads to the creation of back waters. 
It helps in flood control: Wetlands absorbs the water rise like a soak pit.  Wetlands found near the estuaries and riverine areas intern help the water to be retained and act as a natural mechanism of flood control. One of the main reasons of flooding in many cities are filling up of wetlands.
Wetlands also support the ground water level recharged as it can absorb the rain water run-off. In many places in India we find the water table (Ground water level are depleting at a high level). Wetlands have the capacity to rejuvenate the ground water source.
Wetlands are examples of a highly fragile ecosystem but it supports a variety of aquatic and terrestrial species. 
Erosion control: Wetlands helps the growth of several plants such as mangroves. Mangroves are found to be one of the best alternative for soil erosion at the riverine areas. The deep rooted plants create a natural fence which control even the strike of tides, and balances the water levels. 
Commercial fisheries: Wetlands ecosystem acts as a breeding ground for various kinds of fishes. Artificial lakes are also used as fish farms. Andhra Pradesh, West Bengal, Assam are known for commercial fish farms. Other aquatic products such as seeds, flowers, roots are used widely for various purposes like medicines and food items. Several thousand people depend these resources for their livelihood.
Wetlands & Tourism: Wetlands are one of the main tourist resource for many countries. Kerala aggressively promoted its backwaters as a unique tourist attraction of India. The natural beauty along the lakeside are utilized by resort groups and these resorts attract foreign tourists and Indian tourists alike. Thousands of house boats move around the back waters of Kerala with tourists during the season. Dal Lake in Srinagar is a classical example, where the enchanting beauty of the lakes, surrounding snow clad mountains and the house boats provide a very exciting experience for the tourists.
Wetlands of India
India is blessed with abundant natural resources. Major rivers (east flowing and west flowing), numerous streams and huge number of small ponds to large lakes dot the natural resource map of India. Wetlands in India consist of the water bodies formed by rivers, lakes, estuaries, deltas, etc. The following table gives an example of different sources of the wetlands and its features.
| | |
| --- | --- |
| Coastal lagoons in the east | Coastal lagoons in the west |
| Chilka, Pulicat,    Pennar,         Bendi, Nizampatnam,  Muttukad, Muthupet and Gulf of Mannar | Vembanad, Ashtamudi, Paravur, Ettikulum, Veli, Murikumpuzha, Talapady, Lagoons of Bombay coast, Lakshadweep Islands. |
115 identified wetlands in different states under National Wetland Conservation
Programme (NWCP) which functions under Ministry of Environment and Forest. (Check
the enclosed list). The following table illustrates the lagoons which are also part of the
wetlands.
 Arunachal Pradesh
There are 1534 wetlands identified through the mapping.  It consists of 1.05% of the total geographic area of the state.  In general we can say the wetlands of Arunachal Pradesh include river streams, high altitude, and water logged. The following lakes are considered to be of important wetlands of the state.  
Ganga Lake, Itanagar
Madhuri Lake
Assam 
The satellite image demonstrates a large number of water bodies in the state. It consists of  9.74% of the total geographic area of the state. River/stream wetlands account for around  84% of the wetland system of Assam.  There are 3513 recognized wetlands in total and a number of ponds small and big in size owned by fisheries farmers. The following tanks  are also considered important in addition to the identified wetlands in the state.
Nagula Lake
Pangateng Lake
Bihar
Satellite data shows that there are 21998 wetlands in Bihar, out of these, 4416 wetlands are the major ones. The major wetland types are river/stream which is accounted for 74% of the wetlands. Begusarai, Katihar and Saharsa have the largest area wetlands. Makhana and foxnut cultivation found along the wetlands area.  The confluence of rivers and a large number of streams contribute to the wetland system. 
Major river confluences: 
Saryu at Doriganj (Saran Dt)
Gandak at Hajipur-Sonepur in Vaishali/Saran district
Kosi at Kursela (Kathihar dt)
Approximately 60% of Gangetic dolphins are found at the riverine area of Bihar. 
Chhattisgarh 
7711 major wetlands have been listed in the mapping process. 2.5% of the total geographical area is under wetlands in Chhattisgarh. 
Gujarat
The satellite data shows that 14183 wetlands in the state. It accounts for 17.56% of the total geographic area. The major types of wetlands found here are inter-tidal mud flat, river/stream, river/barrage, creek, salt marsh etc.
Haryana
There are 1441 major wetlands in Haryana. Total area under wetlands consists of 0.86% of the geographic area. Major wetlands comes under the category of river/stream, tank/pond or waterlogged and reservoir and barrages. Panchkula has the highest concentration of wetlands, followed by Yamunanagar and Karnal.
Himachal Pradesh
170 major wetlands have been mapped by the survey. It comes around 1.77% of the total area. There are 42 high altitude lakes, 171 reservoirs. Chandratal (lake) is situated at 4250 meters above sea level, which is also one of the prominent tourist attractions.   
Jammu & Kashmir
1411 major wetland types have been identified in Jammu and Kashmir. There are many high altitude wetlands in the state and majority of them are found in Leh. Natural wetlands dominate the in the state.  Jammu and Kashmir has a large number of wetlands which are both snow fed and rain fed. The following list include are some of the important wetlands which are not listed in the previous list. 
Manibugh wetlands; Pampore area of J & K, many movies shot on its background.
Anchar Lake: natural lake formed from Dal Lake. 
Narkara Wetlands: fed from Dudhganga river. 
Jharkhand
2463 wetlands have been identified in Jharkhand, which covers an area of 2.1% of the total area. Major wetland types are river/stream and reservoir and barrage. 
Karnataka
11412 major wetlands have been identified in Karnataka. Inland wetlands consisted of 97% of wetlands, out of these 68% is manmade. The major wetland types are tanks, ponds followed by reservoir/barrage or rivers and streams. Tumkur district has registered the highest number of wetlands. 
Kerala
Kerala is bestowed with a number of rivers and lakes. There are 41 west flowing rivers and 3 east flowing rivers, 3 major lakes and several lagoons connected with backwaters. There are 1762 major wetlands which are constituted by riverine areas, lagoons, estuaries and waterlogged etc. Eg: The following rivers Chandragiripuzha, Valapatanampusha Kadalundipuzha, Periyar, Poovar etc. The estuaries and the deltas are home for different species of birds and aqua life. The coast of Ernakulam district is having a unique soil combination, i.e. black soil which is found beneficial for particular rice cultivation, found only in this place in India. The backwater stretch of Kerala attracts lot of foreign tourists. Considering the importance of this region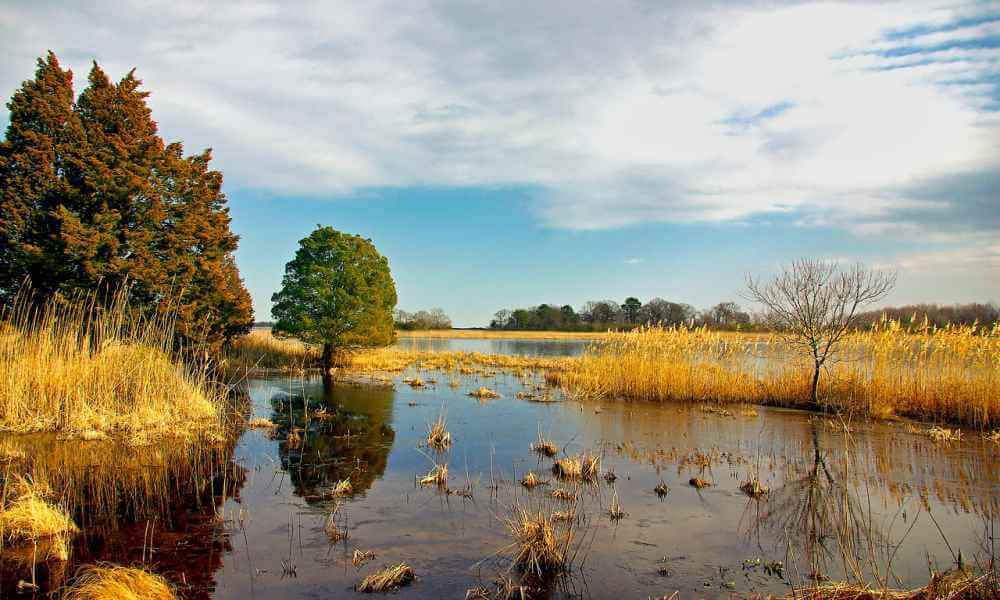 responsible tourism initiative have been taken and proved successful in Kumarakom.
Houseboats with tourists roam around the backwater stretches and it.
Madhya Pradesh
17666 wetlands have been mapped in M.P. major types of wetland include reservoir or barrage, river/ stream, tank/pond etc. 
Maharashtra
23046 wetlands have been mapped, which consists of 3.3% of total geographic area of the state. Major wetland types include reservoir/barrage, tank/pond, river/stream, creek and mangrove etc. 
Manipur
167 wetlands have been listed. It covers a total area of 2.85% of the total geographic area.
Wetland types include lake/pond, river/stream, water logged etc.
Meghalaya
 There are 259 wetlands. This include rivers/stream, reservoir and barrages.
Mizoram
 82 major wetland shave been listed.

Nagaland
267 small wetlands have been identified during the mapping
Odisha
12266 major wetlands have been listed in the state. Inland  wetlands dominate coastal  wetlands. Major wetland types include river/stream, reservoir/barrage/tank pond and  lagoon etc. Puri district has the highest inland wetlands and open water sources.
Puducherry 
259 wetlands have been identified in Puducherry. Major wetlands area include river/stream, lake/pond, followed by tank/ponds. 
Punjab
1381 major wetlands have been listed. Total wetland area comes under 1.71% of the total geographic area. It includes water logged areas, ox-bow lakes, riverine areas etc. 
Rajasthan 
12625 major wetlands have been listed in the survey. It covers an area of 2.29% of the total geographical area. It include river/stream, reservoir/barrage etc. 
Sikkim
There are 272 major wetlands in Sikkim which covers a geographical area of 1.05% of the total area. 40.79% of the wetlands include high altitude lakes, others are rivers/streams, lake/ponds/etc. 10 wetlands are situated 3000-4000 meters above sea level.
Tamil Nadu
18294 major wetlands are marked in Tamil Nadu. Major wetlands include lake/pond, tank/pond, river/stream mangrove and coral reef etc. 83% of the total wetland area are in open category. Ramanathapuram district in Tamil Nadu has the largest area of wetlands in Tamil Nadu. 
Telangana
The major wetland types in Telangana are reservoirs, lakes, tanks and riverine areas. Nizamabad district has the highest geographical share of the wetlands due to the reservoirs Nizam Sagar and Sri Ram Sagar irrigation project and river Godavari and its banks.  Tripura
It has 432 major wetlands. Inland wetlands dominate the coastal wetlands. Major types include rivers/stream, lakes/ponds etc. 
Uttar Pradesh
28390 major wetland areas have been identified in the state. It consists of 5.16% of the total geographical space. 74% of the wetlands are natural wetlands. Major wetland types include river/stream, pond etc. Sonbhadra district in Uttar Pradesh has the highest number of wetlands in the state. 
Uttarakhand
994 wetlands have been marked in the survey. The total area under wetlands is less than 2%.
West Bengal
Total area under wetlands is approximately 12.5% of the total geographical area. Total number of wetlands mapped is 147826. Inland wetlands dominate the coastal wetlands in this state. Major wetland types are river/stream, mangroves, lakes/ponds, water logged, and reservoir/barrage etc. South 24 Parganas have the highest number of wetlands.
Major ecological issues and wetlands
Encroachments and filling: Wetlands have been the soft target for encroachments. Several wetlands are already filled by the builders, and the real estate firms under the cover of business interest while ignoring its ecological importance. 
Weeds. Water hyacinth and other predator weeds cover the wetlands very fast it affect the natural eco system. It is found that once these alien weeds enter in to the water body, it grows quickly and fill the available space. This further reduces the oxygen availability at the water bodies, which in turn misbalance the aquatic life. 
Pollution: Most of the sewages are opened to the water bodies and wetlands as an easy way to address the pollution issues. Untreated sewage contaminate the water bodies and act as an agent of pollution. 
Dumping of waste from cities and urban areas. It is found that the authorities usually find the marsh land or swamps and water bodies are the places to dump the municipal waste. The piling up of garbage and pollutants damage the ecosystem badly. Recently Bangalore was in news. Due to excessive pollution, Bellandur Lake started generated smoke and burning. This lasted for several hours. When it rained the rain water brought toxic foams from the lake to the rad and adjacent areas. It is a shocking example of how a wetland can be polluted and the aftermath of it. 
Lack of awareness of people. People normally ignore unless they are affected by ecological issues. Wetlands of India are in serious threats due to the ignorance of people on the purity of environment. 
Droughts and other natural disasters. Reduced rainfalls, drought shrink the area of the wetlands. Several wetlands have already been lost its actual area due to such issues. Human encroachments also led to the shrinkage of the area. 
Unregulated tourism activities also cause the deterioration of wetlands. Increased use of motor boats lead to high levels of pollutions which degrade the ecosystem of the wetland. Quite often income generated from tourism over rule the ecological issues, which cause immense damage to the wetland ecosystem. 
Wetlands, Wetlands, Wetlands, Wetlands, Wetlands