Profile of Cabin Crew: Cabin crew may be defined as the members or the staff of the aircraft who take care of the passengers in the aircraft. They are also known as flight attendants, airhostesses and flight stewards. The main responsibility of cabin crew / airline cabin staff is to provide safety, security to the passengers travelling with them and make their journey more enjoyable by providing them cherished travel experience during their flight. Presence of cabin crew/airline cabin staff is mandatory in the airline. If food and beverage services are not provided in the flight, still cabin crew/airline cabin staff must be present there. Cabin staff assists the passengers (assisting unaccompanied minors, old age people, people with disabilities etc.) in the flight and, guide passengers to their respective seats and helps them in their baggage handling.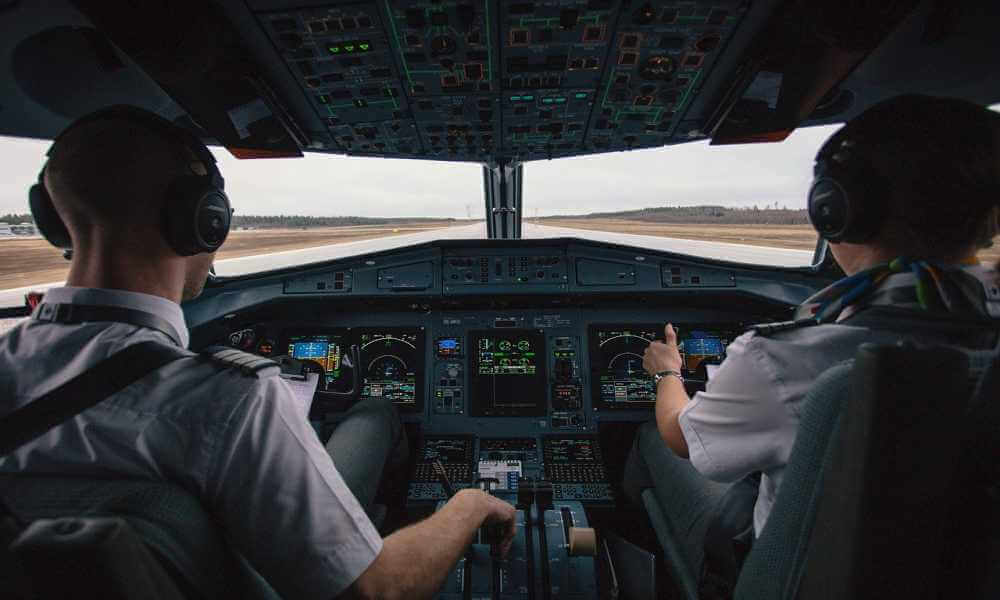 Crew/Airline Staff is considered as the face of the airline. Cabin crew staff must be approachable, enthusiastic and presentable. They are responsible for taking complete care of the passenger on the flight. Cabin crew/ airline cabin staff should be friendly in nature so that they can make the guest more comfortable during his journey. Flexibility is the key quality for the profile of cabin crew/ airline cabin staff (i.e. flexible in working in odd hours of the day.) Quick thinking and organizational skills are very much necessary for the cabin crew profile, since there are number of situations which need to be tackle when you are on the flight.  Passengers have numerous requirements, complaints that need to be resolved effectively by the cabin crew staff.
It is the responsibility of cabin crew / airline cabin staff to deal with these problems or situations tactfully and patiently. For the proper and smooth run of operations during the flight certain skills like time management, coordination, working in team etc. are desired from the crew staff members.
Cabin Crew Job Profile and History:
Cabin crew or airline cabin staff which is also known as steward, air hostess, air host, cabin attendants are employed by airlines to provide facilities onboard to the passengers and make their travel hassle free. We will discuss their history and origin below:
History: The word steward was originated from the word 'Chief Steward' which was used in marine transport terminology. The role of Flight attendants and cabin crew is very much similar
to that on passenger trains or ships, but in airlines the interaction of cabin crew with passengers is more than as compared to interaction with passengers travelling through trains and ships.The first female flight attendant was Ellen Church. She was a registered nurse by profession. When she got the job as the flight attendant she was only 25 years old. United Airlines hired her in the year 1930. Hired nurses then called stewardesses or airhostesses. In the year around 1935 two thousand women applicants applied for 43 positions of airhostesses in
Transcontinental and Western Airlines. In US women who are willing for stewardesses' profile required to be unmarried. First African – American flight attendant in US was Ruth Carol. She was hired in December 1957.
Main Responsibilities of Cabin Crew/Airline Cabin Staff:
The main responsibilities of the cabin crew or the airline staff are as follows:
To greet the passenger during they're boarding to the flight and guide them towards their respective seats. Then they have to assist the passengers to store their luggage safely in the overhead cabin and to make sure that the passenger is feeling comfortable.
To provide food and beverage services to the passengers during the flight..
Crewmembers also sell duty free goods and makes calls on the behalf of captain.
Cabin crew staff is trained for emergencies situations. In case of on board emergencies like fire in the plane/cabin, hijack situations, rejected takeoff etc. staff take proper emergencies measures and guide passengers in those situations.
When the flight reaches its destination point, it is the responsibility of cabin crew/ airline cabin staff to disembark all the passengers safely and securely. Proper Assistance is provided to the old age people, unaccompanied minors and physically disabled passengers. VIPs are allowed to depart the airplane first and disabled passengers depart the plane in the last in order to reduce the ambiguity.
At the end of flight cabin crew asked to complete written report with details of the flight like duty free sales, unusual incidents that occurs in the flight, documentation regarding custom and immigration.
Pre Take-off Service:
All such services, which are required or provided between boarding and takeoff, are called Pre take off services. 
Flight Attendants attend a safety briefing before the departure of flight with the pilots. During the briefing they check complete emergency checklist, all safety measures, emergency equipment's and other safety features of the aircraft.
Passenger boarding needs must be verified like special assistance required for medically misfit passengers (wheelchair, stretchers requirement etc.), special assistance for unaccompanied minors and disabled passengers to make sure that they can enjoy their air travel experience as other passenger too.
Weather conditions are regularly monitored and properly taken into consideration and discussed.
A safety check is done in order to assure that adequate quantity of emergency equipment are there in the flight like torches (flash lights), life vest, firefighting equipment's are on the right quantity and in proper working condition.
Report of emergency equipment or other necessary equipment is prepared and rectified prior to take off of the flight.
Cabin crew staff checks the aircraft cabins properly and make sure that there is no unusual smell or awkward situation in the cabin.
Cabin crew staff also assist passengers in baggage loading, checking weight of baggage and ensure that passenger does not have carry any dangerous goods with him or in his baggage.
It is the responsibility of cabin crew staff to make sure seat belts should be fastened before flight takeoff.
Cabin Crew/ airline cabin staff must secure the cabin and make sure seats are in upright positions, tables are stowed, armrest should be down etc.
Food and beverages services are provided to passengers by the cabin crew once the flight takeoff.
Proper check-in needs to be done in the lavatory in order to ensure that smoke detectors works properly.
For pilot's safety and health regular check of cockpit check must be done, cabin crew is also responsible for special request of guest on call lights.
When turbulence occurs cabin crew staff must ensures cabin is safe and secure.
All loose items trays and rubbish collected and must be secured properly prior to the landing of the plane and hot liquid should be displaced.
Before landing and takeoff a final cabin check is must required, awareness during flight takeoff is very necessary as most of the accidents occurs during this only.
Flight attendants should be present at the exit doors to help the passengers in disembarking the plane and to take complete check of the cabins
In case of unaccompanied minors cabin crew/ airline cabin staff provides proper assistance to them and after flight reaches to its destination point the crewmembers hand them over to designated person after checking proper Identity of the person.
Flight attendants are trained to emergencies like: 
Fire in the cabin/plane
Medical situations/ Cardiac arrests
Smoke in the cabin
Death (On board)
Births (On Board)
Emergency landings
First Aid
Hijacking
Water and sea landing
Survival in Dessert and forest
How to deal with dangerous goods
Ø Cabin Crew staff makes calls and announcements to the passenger during flight on the behalf of the pilot.
SEP (Safety and Emergency Procedures) Training to Cabin Crew Member
Once some one has been successfully shortlisted for a cabin crew profile in any of the airline, he/she has to undergo a mandatory training of 4-6 weeks. The training is being provided and governed by civil aviation authorities. This training is also being provided by some of the private players, which are certified by the civil aviation authorities to provide training. This training program is called as SEP (Safety and Emergency Procedures). During the training time the cabin crew will also get his first month's wages and the training cost is to be taken care by the airlines 
During this training the Cabin Crew/ Airline Cabin Staff will be trained on:
Fire Frightening threats in the plane
Decompression
Passenger management § Security Related Issues
Landing in water and sea
Survival in the forest and desert
Hijacking
Emergency Evacuation
On Board birth and Death Situations
Dealing with smoke in the cabin
First Aid
Extra Ordinary Situations  
Different stimulations are used for the practice drills and procedures that are desired to deal with different types of emergencies. Cabin Crew training is extremely expensive, therefore it is only provided to the recruited people. After completion of cabin crew training, the candidate will be put on 3 to 6 months' probation period; here senior cabin crew and airline trainers monitor him or her. Every year cabin crew or airline cabin staff has to undergo recruitment training and is being re-tested.
Job Profiles: The different job profiles of the cabin crew members are as follows:
Chief Purser:   
The title of Chief Purser is different from airline to airline. Chief Purser is also called as Inflight Service Manager (ISM) or Cabin Service Manager (CSM). Title differs from airline to airline. These are the in charge of running smooth operations of the cabin. Chief Purser must have years of experience in aviation airline industry and has been promoted from Flight Attendants – Senior Crew Member – Purser – Chief Purser in the hierarchical order. The salary of Chief Purser is higher than flight attendants because of increased responsibilities and rank.
Chief Purser is hired in the larger aircrafts and is responsible for running smooth operations in the cabin. We can say in other words that he is the in charge of the cabin. Here are some of the key responsibilities of the Chief Purser:
He deliver on-board announcements
Reports when aircraft is ready/secure for takeoff and landing operation
After preflight check he has to reports about any missing/ broken item to the pilot.
Make reports and do the required paper work.
To operate doors in routine flight.
Purser:
The term purser is also taken from naval terminology. The meaning of purser in naval operations means an officer on the ship whose chief role is to handle money related affairs and makes passengers feel comfortable.  The air purser is the head of flight attendants. Purser will On-Board with multiple flight attendants. On a larger aircraft purser assist the chief purser and works on the behalf of chief- purser during his absence. Purser has the same responsibilities and work as chief purser has. Pursers are also known as flight attendants or similar job profile. Pursers have more experience and salary than flight attendants.
First Aider:
First Aider training plays a very crucial role in cabin crew/ airline cabin staff. For any kind of medical emergency cabin-crew has to go through training for following areas:
Medical Emergencies in flight including chocking/stroke, shock, asthma, epilepsy, diabetes, air sickness, stress reactions, heart attacks, gastro-intestinal disturbances, hyperventilation, child birth (on-board) etc.
Hygiene and travel health training is given to prevent passengers from infections, diseases, especially when operating into tropical and sub-tropical areas, On-board hygiene, handling of clinical waste.
Training provided to cabin crew to deal with physiological effect of fatigue; time zone changes and sleeps physiological effects.
Training regarding how to use or operate aircraft equipment's including first aid kits, emergency medical kits, first aid oxygen and emergency medical equipment.
Survival training is provided to cabin crew in case of the unconscious, burns, wounds, fractures etc.
Specially designed dummy is used for pulmonary resuscitation.
Cabin Crew/Airline Cabin Staff Qualities:
The cabin crew or the airline cabin staff must posses some of following qualities:
Pleasant Personality: The most important trait for the profile of cabin crew is pleasant personality. The crew must know how to present himself/herself with a pleasing smile, when he is supposed to assist guests.
Friendly Nature:  Cabin crew needs to have friendly nature with the passengers in order to make them feel comfortable and relax during the flight experience. Friendly nature of cabin crew/ airline cabin staff helps them to understand the basic requirements of the passengers, which results to provide better services to passengers.
Grooming: Grooming is one of the most essential qualities for the profile of Cabin crew/ airline cabin. The cabin crew has to work for long hours without taking any break and they need to look fresh all the time.
Communication Skills: Excellent communication skills are required for cabin crew profile. It is better to know more languages (foreign languages give you more advantage). Good command over English is mandatory in most of the airlines as the English language is spoken all around the world.
Able to work quickly and efficiently: Cabin crew must know how to work quickly and efficiently within the limited time. Crew must possess the quality of quick thinking and able to tackle on –board situations effectively.
Other professional skills that are required in cabin crew/ airline cabin staff are:
Exceptional Customer Service
Ability to work under pressure
Sales Skills
Flexibility in working hours
Know how to deal with difficult situations
Team working skills
Dealing with difficult passengers
Good color vision and hearing
Ability to remain calm in emergencies